The Round Up: Why We Love Round Tables This Christmas
With more and more of us living in smaller spaces, or looking for ways to make our spaces feel a bit more cosy. With Christmas on the horizon, here's why we're loving circular tables and why we think they could be the ultimate way to create a cosy festive feel. 

Space Saving
With larger surface areas than most rectangular tables, circular tables can offer the same amount of dining space all while being more compact and efficient. With more people living in smaller spaces, finding tables that suit modern living is more important than ever. Even better, more surface area means more room for serving plates, glassware and place mats. With everything in easy reach on a round table, these are an ideal option if you're in a small space but also love to host during the festive season. 
Next year, swap your rectangular tables for a circular one will give you more space to enjoy the festive season and other special occasions across the year. 
Root Round Dining Table - £799
For a cosy wintery feel, we adore the Root Dining Table. Ideal for creating a rustic, earthy feel, the Root Collection is a beautiful table that's perfect to add to classic and modern interiors. With the tree inspired legs, this table adds a wintery, naturalistic feel to any room it's placed in.
Cosy Up
With Christmas coming, we're seeking out ways to make our homes feel cosy and intimate for that festive feel. We think that circular round tables are an easy way to create this intimacy easily. Maybe it's the smaller space, maybe it's the fact you can angle yourself to see everyone's faces easily on a round table, but we definitely think that round tables offer a more sociable space that's perfect for dining rooms.  
Blake Round Dining Table  £349

For the ultimate blend of modern design and cosy vibes, we're in love with the Blake collection for a rustic and cosy vibe that feels thoroughly modern. Crafted from reclaimed timbers, the Blake Collection is ideal for creating a cosy feel that's ideal for festive feasts and casual family dinners. 
Versatile Style 
Available in a number of  styles, you're sure to find one that suits your dining room. Ranging from modern, industrial inspired pieces to cosy farmhouse-styles like the Cranford- FW Homestores have pieces that will compliment your style perfectly. Even better, circular tables can be used in a variety of ways depending on your needs. Whether you need a dining space for a small studio flat or a breakfast nook for a kitchen, a round table is an ideal option.
Tetris Round Dining Table - £199

For modern homes that love cool grey tones, our top pick is the Tetris Round Table. Featuring dynamic black legs and an elegant, marble-effect top, this round table injects modern style to small spaces. Ideal for small modern kitchens looking for a casual dining space, this table is a favourite from FW Homestores. Complement this table with sleek chairs in neutral tones for a minimalist, modern look or add vibrant accents with colour velvet chairs for an on-trend contemporary feel that will wow your guests. 
That's our round-up on our favourite circular tables for hosting. We have a wide range of tables that suit any style of dining space. Shop online or visit one of our showrooms today to see our full range of furniture and create your dream festive dining room.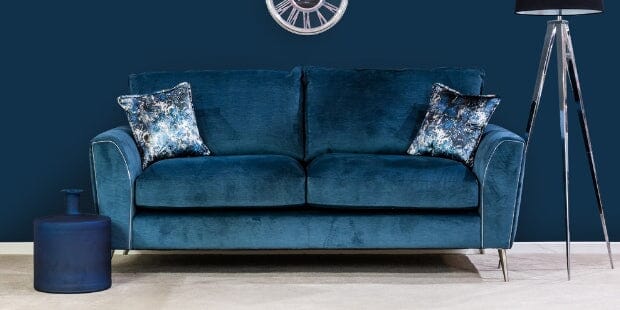 Style Advice
This winter we're celebrating all things cosy at FW Homestores. As we're spending more time indoors, getting your sofa set-up is even more important in the cold months. Here's our top tips for crea...
Read more