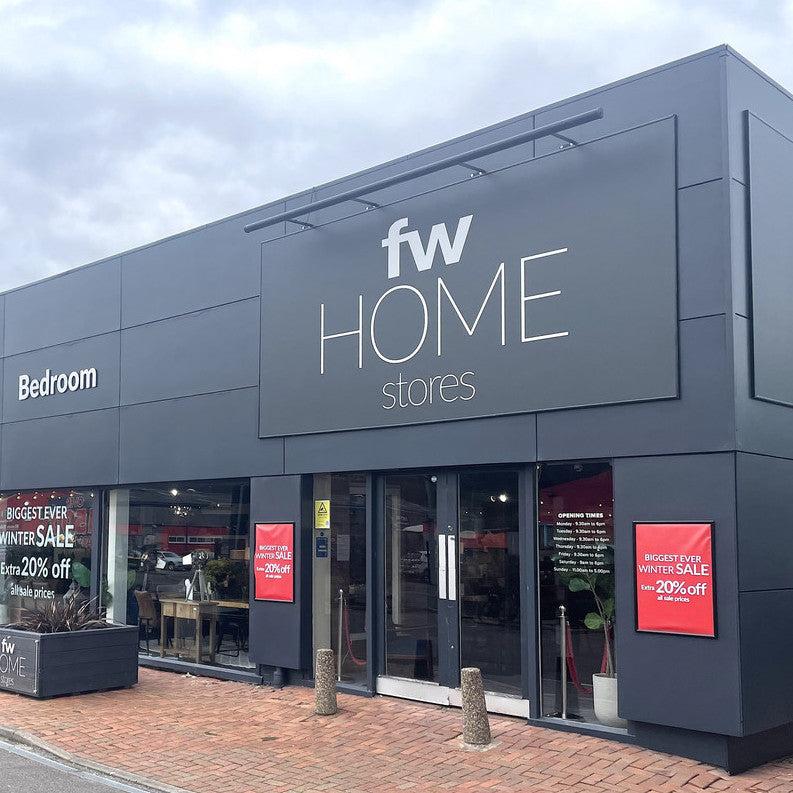 Unit 32, Hadfield Road, Cardiff, CF11 8AQ
FW Homestores Cardiff - Your Destination for Designer Furniture
Opening Times
Monday 9:30am - 6:00pm
Tuesday 9:30am - 6:00pm
Wednesday 9:30am - 6:00pm
Thursday 9:30am - 6:00pm
Friday 9:30am - 6:00pm
Saturday 9:00am - 6:00pm
Sunday 11:00am - 5:00pm
Contact
Penarth@fwhomestores.co.uk
02920 371970
About Our Cardiff Store
Welcome to the newest FW Homestores location on Hadfield Road in Cardiff. This store resides in the illustrious Eddershaw's building, a notable name in Wales' retail history. After 181 successful years of trading, Mr Eddershaw decided to close his doors, leaving a rich legacy behind. Today, we proudly continue this tradition, offering top-tier furniture with the unique FW Homestores touch.
As the latest occupants of this time-honoured location, we strive to uphold the site's values of quality and service while presenting a truly stylish and welcoming showroom. Our Cardiff store is more than just a shopping destination; it's a homage to its historical roots, blending tradition with modernity.
In our expansive showroom, you'll find a vast assortment of designer furniture and home accessories, each hand-picked for its style, comfort, and quality. From plush sofas and armchairs to elegant dining sets, cosy beds, captivating wall art, and rugs, we cater to every taste and home decor theme.
Our team of dedicated and experienced staff members are ready to assist you, guiding you to find that perfect piece that brings your vision to life. Our commitment is to help you create a home that mirrors your personality and style.
Located conveniently on Hadfield Road in Cardiff, our store is easily accessible for residents across South Wales. Visit our store today at 32 Hadfield Rd, Cardiff CF11 8AQ and embark on an unforgettable furniture shopping experience.
Experience FW Homestores Cardiff today - where we blend heritage with contemporary design and turn shopping into a delightful journey. For more information contact us at Penarth@fwhomestores.co.uk for any enquiries. Remember, our store isn't just a place to shop; it's your first step towards a stylish, comfortable home.
FW Homestores Cardiff
At FW Homestores, we're more than just a furniture store; we're a part of your journey towards a stylish and comfortable lifestyle. This belief finds a home in our vibrant Cardiff store, nestled within the historic Eddershaw's building on Hadfield Road. Here, every piece of furniture is hand-picked with a discerning eye for your comfort, style, and elegance. We stand by the conviction that our collection is more than an array of items; it's the perfect mix that helps transform houses into charming homes.
We warmly invite you to our Cardiff store today. Experience the distinctive FW Homestores difference. Let our dedicated team guide you on this exciting journey, and together, let's fashion the home of your dreams. Remember, our store isn't merely a destination for home furnishings; it's the genesis of a beautiful home transformation.
Contact Our Cardiff Store