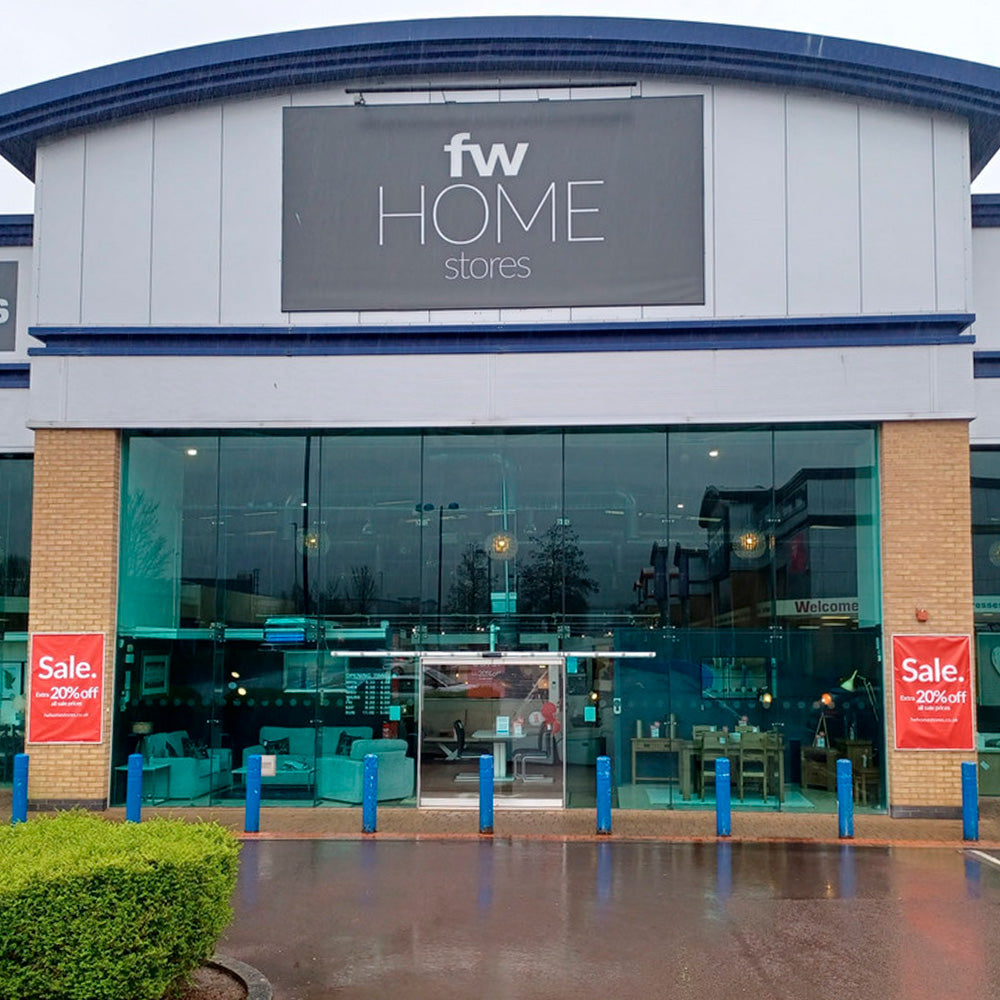 Unit 6, Gallagher Retail Park, Caerphilly, CF83 3GX
FW Homestores - Your Premier Furniture Store in Caerphilly, South Wales
Opening Times
Monday 9:30am - 6:00pm
Tuesday 9:30am - 6:00pm
Wednesday 9:30am - 6:00pm
Thursday 9:30am - 6:00pm
Friday 9:30am - 6:00pm
Saturday 9:00am - 6:00pm
Sunday 10:00am - 4:00pm
Contact
Caerphilly@fwhomestores.co.uk
02920 884360
About Our Caerphilly Store
Embark on a journey of home transformation with FW Homestores, your premier destination for designer furniture in Caerphilly, South Wales. Overflowing with an exquisite range of furniture and home accessories, our Caerphilly store is your go-to hub for home décor inspiration.
Stretch your imagination across our expansive collection - from plush sofas and armchairs, sophisticated dining tables, and cosy beds to captivating wall art and rugs, our offerings are meticulously curated to suit every taste and style. We ensure you'll find that perfect piece which not only complements your décor but also resonates with your unique personality.
Our dedicated and talented team at the Caerphilly store is always at hand to guide you through the selection process, helping you create a harmonious and stylish space that you'll be proud to call home.
Nestled in the heart of Caerphilly, FW Homestores provides a relaxed and welcoming environment for all your furniture shopping needs. Without any pressure, feel free to explore our diverse collections and displays, where you'll discover everything from traditional sofas to modern dining sets, chic bedroom furniture, and more. Our physical address is Gallagher Retail Park, Unit 6, Caerphilly CF83 3NL, making it a convenient location for residents across South Wales.
We believe shopping for furniture should be as comfortable as the furniture itself. That's why at FW Homestores, we strive to provide a shopping experience that's not just satisfying but also enjoyable. Visit us today and allow us to assist you in making your house a truly comforting home. For any enquiries, feel free to visit our contact us at Caerphilly@fwhomestores.co.uk, or delve deeper into our offerings like sofas,dining, bedroom & more.
FW Homestores in Caerphilly - where quality furniture meets excellent service, transforming shopping into a pleasurable experience.
FW Homestores Caerphilly
At FW Homestores, we are more than just a furniture store - we are a key part of your lifestyle journey. This philosophy is deeply embedded in our inviting Caerphilly store, where every piece of furniture is hand-picked with an understanding of your comfort, style, and elegance. Here, we believe that our collection is not just a mere assortment of items; it's the perfect blend that helps transform houses into welcoming homes.
We cordially invite you to our Caerphilly store today. Come and experience the unique FW Homestores difference. Let our dedicated team assist you in this exciting journey and, together, let's build the home of your dreams. Remember, our store isn't just a destination for home furnishings; it's the starting point of a beautiful home transformation.
Contact Our Caerphilly Store