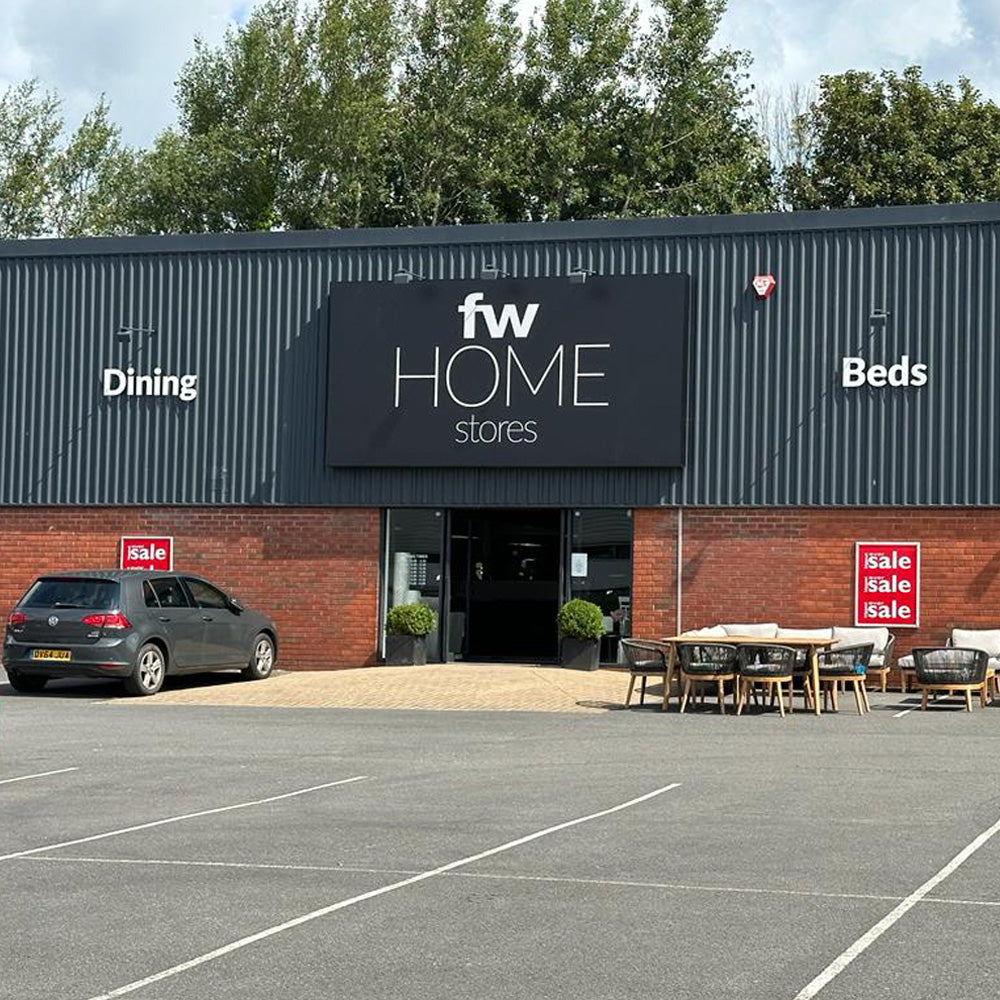 FW Homestores, Unit 2, Howard Avenue, Barnstaple, EX32 8QA
FW Homestores - Barnstaple, The Premier Furniture Store in North Devon
Opening Times
Monday 9:00am - 6:00pm
Tuesday 9:00am - 6:00pm
Wednesday 9:00am - 6:00pm
Thursday 9:00am - 6:00pm
Friday 9:00am - 6:00pm
Saturday 9:00am - 6:00pm
Sunday 10:00am - 4:00pm
Contact
Barnstaple@fwhomestores.co.uk
01271 329127
About Our Barnstaple Store
 Welcome to the historic location of FW Homestores in Barnstaple, North Devon - a trusted destination for designer furniture for 30 years. Our Barnstaple store, the oldest in our family, has been serving the community with unwavering dedication, providing quality furniture that stands the test of time.
With a sprawling area of 20,000 square feet, our Barnstaple store presents an extensive range of our hand-picked, exquisite furniture. From chic sofas that become the centre of your living space, to elegant dining sets, comfortable beds, stylish bedroom furniture, and delightful home accessories, we offer it all under one roof.
Our team at the Barnstaple location, comprising four experienced members, is always ready to guide you through your furniture shopping journey. Their passion for exceptional customer service ensures a smooth and memorable experience, from the moment you step into our store till your chosen pieces find their new home.
Conveniently nestled in Barnstaple, our FW Homestores location offers easy access for shoppers seeking the best furniture store in North Devon. Our physical address is FW Homestores, Unit 2, Howard Avenue, Barnstaple, EX32 8QA, an ideal location for residents across the region.
Step into our store to experience the FW Homestores difference. Visit us today, and let our dedicated team help you find the perfect pieces to complete your dream home. For any enquiries, feel free to contact us at barnstaple@fwhomestores.co.uk or explore more of our offerings like sofas, dining and bedroom.
Remember, at FW Homestores, we're more than just a furniture store. We're a beacon of home inspiration, providing designer furniture in Barnstaple, North Devon for over 30 years. Visit us and become a part of our story today.
FW Homestores Barnstaple
At FW Homestores, we're not just a furniture store - we're a part of your lifestyle journey. This ethos rings true in our oldest and esteemed Barnstaple store. Our hand-picked collection here is more than just a showcase of items; it's a fusion of comfort, style, and elegance that transforms houses into warm, inviting homes.
We invite you to our Barnstaple store today. Experience the unique FW Homestores difference, let our dedicated team guide you, and together, let's create the home of your dreams. Our store is not just a destination; it's the beginning of a beautiful transformation.
Contact Our Barnstaple Store