Stay organised at home with these simple storage ideas
It's basic math that spending more time at home = more mess, and at times the last thing on our mind is keeping the house in order! Sometimes it's the most simple ideas that can offer the best in the art of home organisation. Try these savvy storage ideas for that extra bit of organisation and peace of mind!
Click the images for more info...
Hexagon Storage Boxes (Set of 2)
Doubling up as modern end tables, these stylish storage boxes are the perfect 2 in 1 storage solution! With plenty of storage space perfect for anything from magazines to cushions, these black and gold wooden boxes may be small but will create a big impact on your decor.
Odessa Oak Hall Shelf Unit
No more draping coats over doors or packed into a cupboard, display them proudly on this solid oak hallway unit with handy built-in mirror. With added shelving, there's space to display those bits and bobs you never know where to put, be it keys, post or even plants to dress it up.
Antigua Driftwood 5 Drawer Tallboy
A vintage design with an added splash of colour, this tall chest of drawers is ideal for smaller homes where square footage is at a premium. Great for porches, hallways, bedrooms or any room of the home, this uniquely crafted piece offers style and storage hand-in-hand.
New Horizon Kitchen Trolley
Lacking that much-desired cupboard space in the kitchen? This contemporary kitchen trolley might just be the perfect solution... Great for storing anything from pots & pans to tins, this industrial styled trolley is as versatile as it is stylish. With the handy addition of wheels, you can move this about to any area of the room that suits you!
Mocha Coffee Table
Made with in-built secret storage so you don't have to compromise on style, the Mocha Coffee Table provides a great place to hide those usual living room bits and bobs, be it cables, books, or even blankets. Bringing style and functionality together, this contemporary coffee table is the perfect way to keep your living room organised!
Remember to check back here for our weekly blog posts with more creative ideas and interior design advice for your home...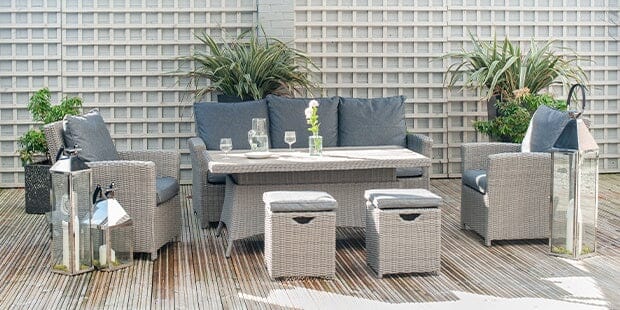 Blog
So the sun is finally here after a very long winter! And although it's not the spring we expected, we think these brand new outdoor furniture arrivals will brighten up yours and seriously up your ...
Read more