Tips for decorating your rented home (without breaking the rules)
If you've ever lived in a rented property, then you'll probably know the struggles of making it feel like your own without breaking the rules. Depending on how strict your landlord is, it's likely you're not allowed to drill, nail or paint your walls. Luckily, there are so many other ways to add your own personal style to your rented home. Here are just a few ideas to get you started...
Use a console table to display art
It can be disappointing not being able to display your favourite artwork when you need to avoid drilling and nailing into walls, but art doesn't need to be hung up traditionally to look good. Utilise a narrow console table to display your favourite pieces against bare walls to fill the room with some colour and personal style. Console tables are a great way to bring a room together, hiding needless blank spaces and providing some extra storage and display space.
Invest in a giant rug to hide ugly carpets and insulate cold flooring
We've all been there when we've moved into a new place and the previous tenant/landlord didn't quite have the same taste as us... So you might not be allowed to pull up the carpets and lay down your own, but what you can do is hide them with a large rug that shows off your own taste and style. If you're in a place that struggles to stay warm in the winter, it might be worth investing in a large thick pile rug, cosy on the feet and will help to insulate your flooring.
Go to town with your greenery
Bring some life into your rented home with an abundance of houseplants (you can never have too many). Tall indoor trees such as Areca Palms are perfect for covering up bare spaces and won't break the bank. For smaller rooms, cacti and succulents are great for updating aged decor and look good pretty much anywhere in the home.
Use large mirrors to open up smaller spaces
While mirrors are great at brightening up and opening out even the smallest of rooms, hanging one up may cause more hassle than it's worth. If like with your framed pictures, you need to avoid drilling holes in the walls, there's always floor-length options to choose from. Cheval mirrors are the perfect alternative with their free-standing function and make an interior statement when placed in a prominent spot in the room.
Experiment with your soft furnishings
Now here's where you can really bring out your own style... Cushions, throws and curtains provide the perfect opportunity to add a personal touch to your rented home. If you're stuck with a sofa that's not to your taste, an oversized throw and a stylish spread of scatter cushions will do the job to make it your own.
Embrace the eclectic look
Don't worry too much about having a cohesive decor theme, indulge in different colours and textures and work with what you've got. Sometimes bringing together different styles of decor can make the most interesting interior spaces.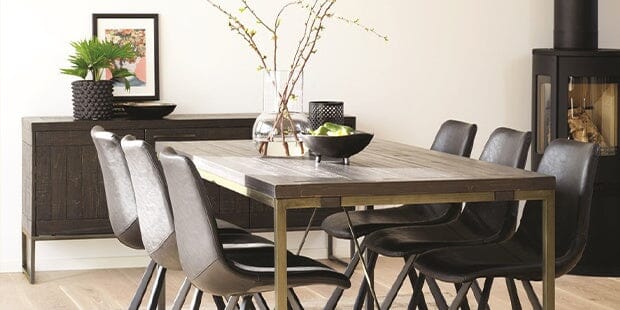 Style Advice
As we're all becoming more conscious of our carbon footprint and changing the way we think about our everyday actions, it's natural to start thinking more consciously about what we buy, be it clot...
Read more