Go for Gold
Classic or cliche... Gold is here to stay this winter. As one of the most prominent and timeless trends of the season, there should always be room for gold in your home.
To celebrate December 1st and the beginning of the holiday season, we decided to do a roundup of our favourite gold products that we think will brighten up your home this winter.
 1. Midas Gold Mirror
 This ripple effect mirror is a beautiful statement piece, perfect for bringing a splash of gold into your home. £289.99

2. Disley Table Lamp
The Disley lamp by Parlane shows off a cool two-tone design with a modern and chic feel. £99.99.
3. Champagne Nickel Lantern
With a sleek clean cut design, this champagne coloured nickel lantern is perfect for indoor or outdoor use to cosy up this winter. £109.99.
4. Ethan Nest Tables
Channeling shabby chic, this gorgeous table nest is the perfect addition to your living room as a handy side table with plenty of style. £189.99.
5. Madison Nest Tables
The Madison table nest boasts a truly elegant design inspired by 1920's art deco. £159.99.
6. Hurricane Brass Candle Holders
A modern twist on the traditional candlestick, this Hurricane candle holder combines a traditional style matt brass stem with a modern glass cylinder window. From £49.99.
7. Scroll Mirror Tray
Be the perfect host this holiday season with this ornate and elegant drinks tray, perfect for welcoming guests into your home. £89.99.
8. Brass Angled Floor Lamp
This oversized brass task lamp takes a modern twist on the traditional desk lamp with a chic industrial design. £109.
9. Cayan Table Lamp
This contemporary black and gold table lamp adds a minimalist touch to the modern home. £99.99.
Bring some sparkle and shine to your home this December with an array of gold! Shop our new arrivals now to see what FW has in store and online for you this winter...
Be FW at home this Christmas...
Ideas
Be the perfect host this Christmas with FW's savvy guest bed ideas! Hosting guests at Christmas can be a busy and stressful time, with lots to prepare from something to eat to somewhere to sleep. ...
Read more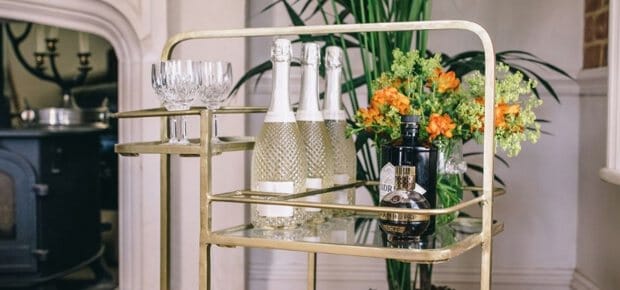 Ideas
Whether your playing host this year, or visiting friends and family, this season is all about entertaining or being entertained! Become inspired with our roundup of entertaining essentials, from ...
Read more