Article: Style Guide: Our favourite autumn/winter trends
Style Guide: Our favourite autumn/winter trends
The colder months are the best time of year to truly appreciate your home... we want to share with you our favourite autumn/winter trends to prepare your home for a trendy hibernation this winter.
Modern Luxe
Revitalise your home with plush velvets and lavish accessories, this trend is all about bringing the feel of luxury to your home. Create your own blend of traditional and contemporary furnishings to achieve a look of modern affluence.
Woodland Charm
This trend will fill your home with whimsical woodland creatures, textured woods and dark autumnal berry hues. Our popular rabbit and deer ornaments are the perfect way to bring this trend to life; understated and charming.
Glamour in Gold
A popular trend this year, Gold is still very much in the spotlight this season. Our elegant vintage-look Tina Tray Table will bring a hint of understated glamour to your home.
Rich Tones
Autumn is the time to dazzle your home with the richest colours to brighten up those short dark days. With this trend, more is more. Find rich tones that compliment each other and dress your living space as extravagantly as you dare.
Eco Chic
Finally, bring a touch of nature indoors with our reclaimed wood products ranging from coffee tables to beds. Sustainability is a huge trend this year and it's not disappearing anytime soon. It's time to ban cheap plastics and one-use items, making room for worthwhile products that you will love for years to come. Browse our range of reclaimed products online or in store.
For more inspiration, check out our autumn lookbook to see an extended range of our favourite products for the current season.
Be FW at home this autumn...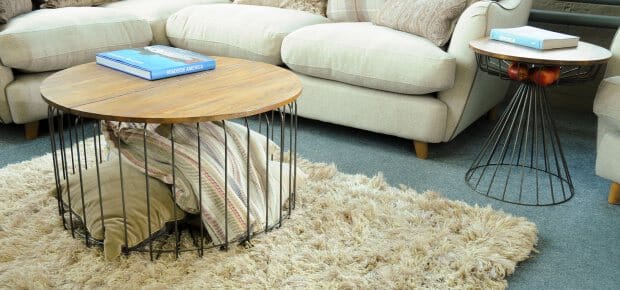 Ideas
Living in a small space can provide a great opportunity to be savvy and creative with your home layout. We want to share with you some stylish and innovative storage solutions to help make your ho...
Read more