Our Top Autumnal Colour Pops For Your Home
As Autumn is clearly on its way, we're super excited about the dramatic colour changes that the season brings, both in nature and in our home. If you're anything like us at FW Homestores, the arrival of the new season means we put the summer brights away and have  leant towards earthier, moodier colours. We're here to guide you on the trending colours in home furniture and how to incorporate them in your home. 
Mustard Yellow
The pop of colour of choice for a few years now, mustard yellow is here to stay. It's a surprisingly versatile hue that brings a little sunshine to the darker days. It's also one of those colours that really goes with anything, trust us! Whether you team it with contrasting hues of teal or royal blue or pair with warmer hues such as tan leather, warm wood and oranges for that ultimate autumnal feel, it looks great no matter your style. 
Our Top Picks For Adding Mustard Yellow To Your Home
Swap out your cushions for some vibrant yellow ones. We love this ochre ruched velvet one because it also adds some fun texture to your sofa or bed that will immediately create visual and tactile interest. Mixing textures makes your home feel so much more styled, so don't be afraid to pick a cushion that's a little out of the box. 



If you're feeling bolder, adding a mustard yellow armchair is the perfect way to play with this on-season trend. Adding a yellow armchair will switch up the energy of the room and bring a lively new piece for the family to enjoy. We'd recommend adding this Victoria James armchair to rooms that need a little something to tie the whole room together.
Rusty Orange
Oranges are having their moment. A quintessential autumn colour that adds a modern, edgy feel, we think orange has the potential to make waves in any room. To avoid comparisons to a halloween pumpkin, we think rusty orange is the ideal shade to play with in your home. It's dark enough to fit in with neutrals but a playful change that will add an autumnal pop to your rooms. 


Our Rusty Orange Picks for Autumn 2020
This plush rust rug may look like a bold choice that's not for the faint of heart, but the texture adds dimension that looks stunning in a home. Colourful rugs are ideal for not only adding colour, but are an excellent way to soften hard flooring textures and fill space in rooms. Add to a wooden floor for a cosy autumnal feel that you can sink your toes into as the nights get chillier.




Rust teams well with other earth tones: think copper, browns and blacks to create a modern industrial feel that feels right on trend. These warm brown hues are the ideal way to incorporate the autumnal feel. Keep the industrial feel going with rustic oak furniture that makes the most of solid black details like our Earth or York ranges. 
New Pastels 
Pastels have been one of the biggest trends of the past decade and each year we see them come back again and again. One trend we're noticing is "moodier" pastel colours that are a little darker than expected, but still offer a calming and romantic feel. Think colours like dusky roses, sage greens and heather lilacs, all of which are perfect for people aiming for a softer colour scheme for their home interior. 
Pastel Home Decor
Adding a new headboard to your bed can totally change the whole feel of a bedroom and rejuvenate your sleeping space. This Sleepeezee Heather Headboard is a dreamy way of injecting colour into your bedroom, while still keeping the colours soothing and calm. Keep the bedsheets simple and let your new headboard bring in most of the colour for a modern finish to your room. 
Accessorizing with pastels is such an easy way to introduce pops of colour. What's great about pastels is you can pick a number of them and they coordinate nicely together. We love the combo of pinks and greens. Teaming these contrasting colours is easier than you think. Adding fake plants to a space easily provides a gentle pop of green, especially with plants and our artificial potted crassula that comes with a dusky green pot. Team with textured baby pink cushions like this Mongolian Putty cushion for a calming yet colourful feel to any room. 
Deep Blues
Fashionistas may have seen this coming but we can't resist picking up on furnitures' love of royal blue hues. When Pantone said that royal blue would be the colour of 2020, we have seen it blown up and become an essential colour for this season. The darker hue of royal blue means it's subtle enough to use on big pieces such as sofas, beds and chairs, while also being a classy colour choice for accessories. 
How To Decorate With Royal Blue
Deep blues look amazing as an anchor colour for patterns or ombre. Team with dark woods and softer colours such as lilacs and sea-foam greens for a dreamy, calming feel. This Holborn Indigo Rug injects many colours, while still allowing you to focus on deep blues as the base. Accent the room with the other shades in the rug to really tie the whole look together. 
If you're brave enough to try the coloured sofa trend, royal blue is actually a timeless colour that pairs brilliantly with both soft colours like lilac and baby pink or pair with contrasting hues like orange, yellows and browns for a contrasting look. We have a range of coloured sofas that will make a dramatic impact in any living room you place them in. Our Ritz Midi Sofa has a mid-century design that's perfect for a modern feel or our Bella range is the star of the show with deep blue upholstery that looks stylish in any living room.

Autumn is an ideal time to play with colour. If you're looking for inspiration for your home, whether it's some new accessories to revamp your space or total room make-over, we're happy to find you quality furniture that will last a lifetime.

Visit one of our showrooms today or browse our collections at www.fwhomestores.co.uk.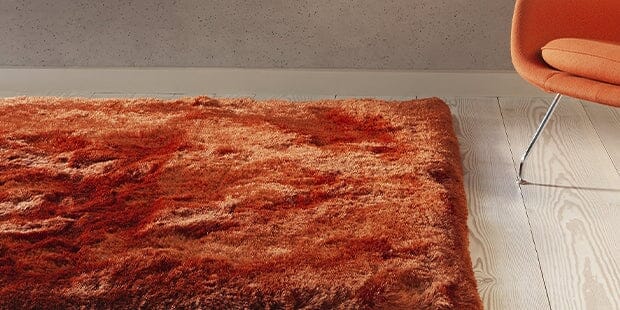 Shopping Tips
From rustic wicker to warm brass, get your home ready for the new season with these cosy autumnal accessories...   Brown Wicker Heart Wicker is the perfect way to bring those autumn vibes into your...
Read more
Shopping Tips
  As the mornings get colder and we're looking for pieces that add an extra cosiness to our rooms. Adding a rug to a bare floor can add extra texture that can bring warmth and interest to a room. ...
Read more