How to measure a sofa
 Alexander & James Pemberley Maxi Split Sofa 
Whether you have a small or large sofa, a corner sofa, or an armchair, it is essential to know if it will fit before making a purchase. Continue reading for our guide on how to measure for a sofa and where to place it in your home.
Measuring
When measuring your sofa, make sure you take measurements from different areas of the sofa. You may be relocating a sofa from one room to another or to a new home. Perhaps you're in the market for a new sofa and need to take measurements in the store.
The Main Measurement Guidelines Are Listed Below...
Width
Always take your width measurements from the sofa arm to arm. This is usually the widest part of any sofa, so take measurements from the outside edge. Avoid measuring from the base or from leg to leg.
Height
The height is the next measurement. Most of the time, you'll want to measure from the floor to the highest point in the back. If you know the legs can be removed, or if you are buying new and are told the legs must be attached, measure from the sofa's base.
Depth
The depth is crucial. Not only for fitting your sofa into a room, but also for how much space it will take up. This measurement should be taken from the back of the sofa to the front edge of the seat. A sofa is frequently deeper than it is tall.
Alexander & James Summerton 4 Seater Sofa
Diagonal Depth
This measurement is useful for moving your sofa around your home, particularly through doorways. Take a measurement from the top of the back to the bottom of the front.
Top Tip: Measure not only the sofa but also the hallway and doors to ensure that your new sofa will fit when it is delivered. As a general rule, if your door width is greater than your sofa height, it should fit through. Compare the dimensions of your old and new sofa to determine whether the new one will be larger or smaller. This will allow you to visualise your room and where you want the sofa to be. To make room, you may need to remove a side table or something similar. Alternatively, you may have a gap that needs to be filled, and knowing this ahead of time is hugely helpful. When selecting a new sofa for a room, consider the scale and whether it will complement the rest of the furniture. You don't want your sofa to be the focal point of the room, but you also don't want it to be too small.
Follow the same guidelines as mentioned above when measuring a corner sofa. In addition to this, take a measurement from the corner of the room you want your new sofa in and measure out horizontally to the maximum allowance you can give. This will assist you in selecting a new corner sofa. There may be slight length differences between the two sides, as with many corner sofas. Make certain that you ordered the correct version that will fit in your home.
We hope this simple guide gives you the confidence to measure and buy your dream sofa!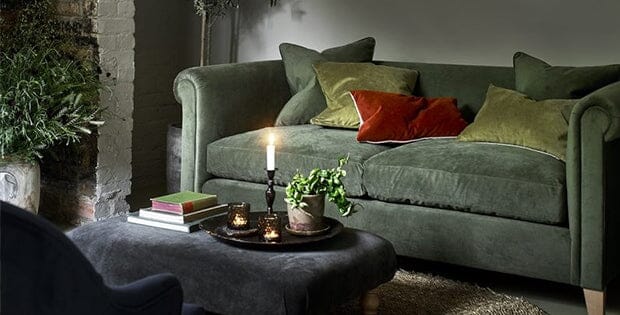 Ideas
10 ways to enjoy autumn at home
Autumn is all about building connections at home and finding moments of delight and relaxation, from lighting a candle to taking a golden hour to yourself with a cup of tea.     Ritual and rise ...
Read more