Child Friendly Furniture Guide
Children are wonderful, adventurous members of your family. To withstand spills, stains, jumping, and other activities, you need strong and beautiful furniture. Read our Kid-Friendly Furniture Guide to learn how to shop for furniture that is built to last for the whole family.
If you have small children and require new living room furniture, you confront difficulties that other consumers do not. You, like anybody else, want furniture that enhances the beauty and comfort of your house, but you also need furniture that is functional and safe for your children. At the same time, having a family means you're probably on a tight budget and looking for low-cost kid-friendly furniture.
The good news is that you can decorate your home on a budget while still making your children feel at ease. How? We have put together this handy guide to selecting the best kid-friendly furniture. You will learn what characteristics and features to look for, how to care for your furniture, and what safety precautions to take to protect your furniture and your children.
The Best Kid-Friendly Furniture Has the Right Upholstery
Every day, your family interacts with your furniture, making the upholstery prone to stains. Unfortunately, they bring more than their fair share of spills from food and drinks, as well as markings from crayons or pens. It's not a question of if, but of when**** these things will occur. Choose a long-lasting and easy-to-clean upholstery material to save time and money in the long term.
There are numerous materials on the market, with varying pricing points. Leather and Ultrasuede are two of the most expensive materials. Other materials can nevertheless provide protection without being as expensive. One choice is microfiber. You can also choose polyester or synthetic blends such as polypropylene and olefin, which provide further water and stain resistance.
Minimize Sharp Corners
When it comes to finding kid-friendly furniture, the most important consideration is sharp edges. Choose items with rounded edges and avoid or replace sharp pointed handles.
(Pictured left: Grand Extending Dining Table)
Select Colours Carefully
As previously stated, having children means you never know what disasters will occur with your furniture. To cover stains and markings, choose fabric colours that are on the darker side. Another excellent approach to conceal stains is to use patterned material.
Slipcovers are Your Friends!
To help keep your sofas and chairs in excellent condition for longer, you can purchase a slipcover. A slipcover protects your sofa at a lower cost than not using one. If you spill ketchup, grape juice, or heavy dirt on the fabric, you may spot clean it or send it out for expert cleaning while still having a place to sit at home.
If you're thinking to yourself, "slipcovers are rather old school/out of date," think otherwise. They've been around for a long time because of how effective they are. Slipcovers aren't always cheap, but they're less expensive than reupholstering, especially when stain troubles are likely to reoccur. They're also great for making kid-friendly living room furniture, since you can remove the covers for a clean and elegant look on more formal nights with friends and extended family.
The Best Couch for Children Benefits the Entire Family
The best sofa for a home is one that is extremely comfortable. A sofa draws everyone in the house, making it a popular spot for long conversations, movies and family games. The more relaxed it is, the more attention it receives. Similarly, the larger it is, the more love it brings. A sectional or couch literally brings the family together and keeps them there for a strong bonding experience.
Opt for a Cosy Reading Chair
A chair that can accommodate both you and a child is perfect for snuggling up and reading a book with the one you love. Some designs also have rockers to assist you in settling them to sleep.
Accent chairs and large, comfortable barrel chairs provide seating for family members of all ages. Even an oversized lounge chair will take up less space in your home, making it easier for kids to manoeuvre and run around.
 (Pictured right: Alexander & James Wilson Snuggler Chair)
Opt for Loose Cushions
Flippable cushions on couches and chairs disguise stains while also extending the life of the foam. They are also less difficult and less expensive to replace than reupholstering a chair or sofa. They're also great for kids to use to build forts! If you have your heart set on a sofa with tight cushions, a fabric protection plan can help reduce stains—more on that later.
Consider Rugs and Runners
Rugs are not technically furniture, but they are used to adorn spaces and are excellent decorative accents. They also make the ground softer for children to play on and safeguard them from falls. Rugs also act as a buffer between floors, avoiding spills, dents, and scratches. When the inevitable accidents occur, rugs are simple to clean. When purchasing a rug, make sure to include a rug pad. Rugs are slick and might cause injuries. A rug pad keeps carpets in place while also providing extra comfort for your children. When shopping, you'll see that rugs come in a wide range of prices, but they don't have to be expensive to be attractive and functional.
 (Pictured left: Luca Rhombus Pattern Recycled Rug)
Do Regular Cleaning
Vacuuming furniture removes food, grime, and other debris, preventing stains from worsening. Make vacuuming furniture a frequent component of your cleaning routine.
Stain protection
For spot cleaning your furniture, a variety of materials are available on the market. Folex and Resolve are two well-known products. Read the instructions carefully and test on non-visible portions of the item first to verify there is no discolouration.
Professional Fabric Protection is Worth the Investment
Another technique to enhance the attractiveness of your fabric is to protect it. Upholstery material can be pre-treated against stains, touch-up stain sticks can be used for small cleanings, and more comprehensive cleanings can be done in predetermined quantities per contract.
Tablecloths and Table Pads
These items may appear obvious, but they are worth mentioning. Tablecloths and table pads protect your dining table from daily interactions. They also help keep your wood table's elegant finish so that it shines during those special occasions.
Storage, Storage, and More Storage
You can still keep your home tidy while making it easy for youngsters to retrieve (and hopefully put away) their favourite items. The solution is easily accessible storage containers.
There are appealing storage boxes in different colours and designs that you can use as side tables or free-floating storage. Storage ottomans are also a good option. They provide a comfy spot to sit while keeping toys hidden and close at hand. They are also attractive and one of the more economical kid-friendly furniture solutions.
(Pictured right: Breeze Blanket Chest)
Temporary Furniture Pads on the Corners
The first priority should be to avoid sharp corners on furniture, but if your favourite table has sharp edges, consider installing furniture edges and corner guards for those exposed areas. You can remove them later once your children are older and more responsible.
Choose Soft Furniture Over Hard Furniture
You can reduce the risk that comes from hard furniture while increasing versatility. Padded ottomans replace coffee tables while protecting children from sharp edges. You can still use them to hold food and drink trays. Opting for a soft velvet chairs instead of hard wood or furniture with soft edges can also soften knocks when moving around the dining table.
 (Pictured left: Rivington Blue Velvet Dining Chairs)
If You Need Tall Shelving, Plan Accordingly
Children enjoy climbing, but this can result in injuries if the child falls or if items or the entire shelf falls over.
Anchor your shelving unit to the wall to keep it from falling or tipping over and reduce your child's desire to climb by storing their favourite items on low shelves.
Use Coasters
Keep coasters on hand and teach your children to use them to avoid drink rings on wood furniture.
Include Play Areas in Your Floor plan
Designate separate play areas for children to keep your favourite furniture out of harm's way. Allow your children enough space to move and dance around without bumping into hard tables, and provide a work table so that they can be creative without spreading messes throughout the house.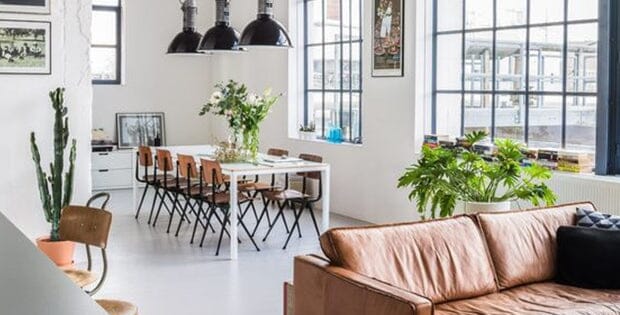 How to...
Inspired by repurposed factories from the Industrial Revolution, the Industrial design style is defined by the architectural elements within a space. Other styles hide these elements, but industria...
Read more
Ideas
As one of the busiest rooms in the house, it's no surprise that our living rooms may sometimes be crammed with 'stuff.' While decluttering is always helpful, there are many things we simply requir...
Read more