Home Entertainment Made Easy with FW Homestores
Staying in is the new going out, in our opinion. With plenty of ways to turn your home into the ultimate party-place this winter, it can be difficult to know where to begin, especially if you're used to having Christmas shindigs out in the town. However, at FW Homestores we have 30 years of experience in furniture, so we're here to give you our top tips for creating the ultimate social spaces in your home. Even if you can't have people around this winter, prepare for the grand reunion and revamp your home in time for the big reunion.
Dining Spaces
Your dining space is a worthwhile investment no matter what time of year it is, but at Christmas, everything feels a little bit more special. Whether you're hosting or keeping it low-key this season, having space to dine and socialise is key when it comes to home entertainment.


Finding the sweet spot between practical and beautiful is key when creating spaces to socialise. Your furniture has equally wow your friends and family when they come over, but also be suitable for everyday use. We'd thoroughly recommend our new Kensington Dining Table. The rustic wooden surfaces give you a practical and rustic base, however the metallic detailed legs elevates the collection to create a dining space that feels luxurious while still practical. 
To elevate your dining space, try upgrading your dining chairs to some velvet fabric chairs. These on-trend pieces will give your dining space an opulent feel, while also providing comfortable and practical dining space for when you aren't socialising.

We have a wide variety of velvet chairs available at FW Homestores in a variety of colours and styles. For people who love to host, the sophisticated  design of the Monroe Dining Chairs adds vibrant colour and vintage-inspired design that's sure to wow your guests. With brass details, these chairs can add an extra touch of glamour your dining space that's perfect if you're planning on having guests.  Adding velvet chairs to any dining room creates an on-trend and fun space that's perfect for everyday and hosting, so browse our full collection and find your favourites.


Living Large
Complete your home set up with a living room that's made to impress. If you're hosting people this Christmas, make the most out of TV units, coffee tables and sideboards in your living room for storage solutions. Whether you're a young family who needs to hide the mess of everyday life or you're looking for ways to keep your media organised, making the most of your living room furniture will give you space to socialise this festive season.
The Marilyn TV Unit - £449 
If you'd like to keep the festive feeling all year around, the Marilyn collection is perfect for social butterflies. Inspired by the decadence of the 1920s and art-deco shapes, it's a perfect way to inject personality into your home. Pair with deep, dark jewel toned colours for a decadent and eclectic feel that will make your home the ultimate party place all year around.  
Entertaining Extras 
Now you've got your basics sorted, it's time to organise the celebrations. Whether you're keeping it laid back or waiting for a big celebration, FW Homestores has some extra accessories and pieces that may be useful for entertaining:

Get the party started with lighting that sets the mood. Lighting can create intimacy and ambience that's essential in setting the tone of your get-togethers. Try adding lamps to corners of rooms where you'll need more light to create cosy and intimate spaces that are great for everyday, not just for when you have guests over.
Shop our full collection of lighting here.

Bartending doesn't have to be a hassle. Our three tier drinks trolley allows you to be your own mixologist and has room for everything from Angostura Bitters to Whisky.

Need a sophisticated cocktail recipe to impress? Try this Honey Spiked Old-Fashioned for a twist on a classic: 
Add 60ml of Bourbon Whisky, a teaspoon of honey and 2 dashes of Angostura bitters to a large glass with ice and stir thoroughly with a bar spoon 6-8 minutes until diluted. In a fresh glass, pour the whisky mixture over fresh ice. Add soda water to taste and then garnish with a cherry and a slice of orange. 
That's it for all of our Home Entertainment tips this festive season. Whether you're hosting or not, remember to stay safe this festive season.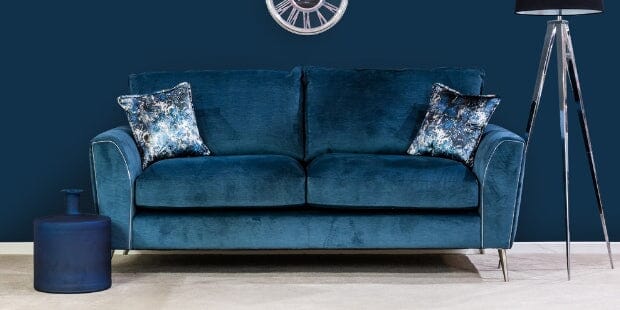 Style Advice
This winter we're celebrating all things cosy at FW Homestores. As we're spending more time indoors, getting your sofa set-up is even more important in the cold months. Here's our top tips for crea...
Read more