Christmas Dining Ideas
The dining table can often be thought of as the heart of the home at Christmas time, the place to eat, drink and entertain all in one. It's also a place to get really creative and have fun with your decorations. We've put together some top tips on how to dress your dining table this Christmas from traditional and elegant to cool and contemporary.
Pick a colour scheme
The first and possibly most exciting part of creating your dining setting is choosing a colour scheme. Nowadays we are not held back by the traditional rich reds and forest greens, we can be as extravagant or understated as we like and style Christmas to suit our individual taste. Here are just a few palette ideas you could choose to dine with this year...
Go contemporary

 with clean whites, soft greys and silver chrome for a sleek and chic dining setting.

Go bright

 with rich blues, yellows and greens for something a little more eye catching and upbeat.

Go classic

 by bringing red into the equation, be it subtle or completely over the top, you can never go wrong with red at Christmas.

Go glamourous

 with a theme of black and gold, fill your table with contrasting dark matt colours and shining golds for a dark and modern twist on Christmas dining.
Choose your centrepiece
Now it's time to choose your centrepiece, and this is where you can really go to town. Your centrepiece is there to be the centre of attention so feel free to go as lavish and overboard as you wish. Here's a few ideas to get you started...
Nature inspired - Bring your Christmas dining table to life by adding a touch of nature to your table setting with real-life plants, flowers and branches. From holly to pine, nature provides us with so many beautiful decorations that we can find in our own back garden. Run evergreen branches down the middle of the table for a subtle woodland chic look or go bold with bright red poinsettias at the centre for a spectacular showstopper.

Lighting essentials - Adding light to a dining table, be it candles, lanterns or fairy lights, can bring a touch of elegance and depth by creating complimentary shadows and highlighting your other beautiful decorations. Candles can bring both life and movement to your table setting and are a wonderfully traditional way to symbolise Christmas and the cosy winter months. For something a little more modern but just as elegant, opt for mouldable wire fairy lights strung across your table runner for a pretty twinkle effect.

Recycled Ornaments - Take a few old baubles from your tree or grab some unique vintage ones from a second hand store, place them in a dish with fairy lights for a colourful and shiny centrepiece that will dazzle your entire table setting.
DIY Place cards
Get creative and incorporate some DIY into your Chrsitmas dining setting this year with homemade place cards, get the kids involved and keep them distracted from the excitement by letting them design and create their very own. Place cards don't always have to be simple boring bits of paper, check out these creative Christmas themed ideas...
Pinecone placecards - Simply take a real pinecone and slot your namecard into the gaps for an easy nature inspired table display. Use a metallic spray to cover your pinecone in gold or silver layers before placing the name card in for a little extra Christmas sparkle.
Cork placecards - For another quick and easy idea, carefully slice into an old wine cork about half way through and stand it upright, then simply slot your name card into the slice for a stylish and quirky placecard!
Log placecards - Find some craft log slices from your local florist or online, a small tub of chalkboard paint, available from most DIY shops and some chalk. Brush a layer of chalkboard paint onto the middle pale area of the log slice, wait for it to dry and use your fanciest handwriting to display the name of each guest on the individual logs. You can even turn these into decorations for next year by drilling a small whole into the top of the log and threading through some garden string for a contemporary tree ornament.
Dress your chairs
The decoration doesn't have to end at the table edge, dressing your dining chairs can be another great way to bring colour and style to your Christmas dining experience. 
Ladder back chairs - if you have dining chairs with ladder or vertical slatted backs, this is the perfect opportunity to dress them with anything from authentic Christmas foliage to baubles and bows. 

Upholstered back chairs - decorating upholstered back chairs isn't as limited as you may think. Take some ribbon that compliments your dining colour palette and tie it in a neat bow around halfway up the back. Now you can either leave the bow as a cute simple decoration, or go biggger and begin to hang other ornaments from the back of the bow for something even more glamourous.
Drinks as decoration
Old wine, prosecco and champagne bottles can provide the perfect decorations to complete the look of your dining table, as well as a great excuse buy the bottles in the first place! Here are just a few ideas for using old drinks bottles as decorations...
Use empty wine or champagne bottles as homemade candle holders by placing a roman candle in the top of the bottle to bring elements of both height and light to your dining table, let the wax drip down the bottle for an extra rustic look.
Take an old wine bottle and some thin warm white fairy lights, simply feed the lights inside the bottle for a beautiful twinkling diffusion of light.
After removing the old labels, brush over a wine bottle with a thick layer of matt glass paint in a rich wintery colour of your choice. Tie some garden string in a bow around the neck of the bottle and turn this into chic vase. Dried out Baby's Breath (

Gypsophila) flowers or branches of Holly will make a beautiful statement centre piece with a delicate and elegant look.


Check out our Pinterest board more more Christmas dining inspiration!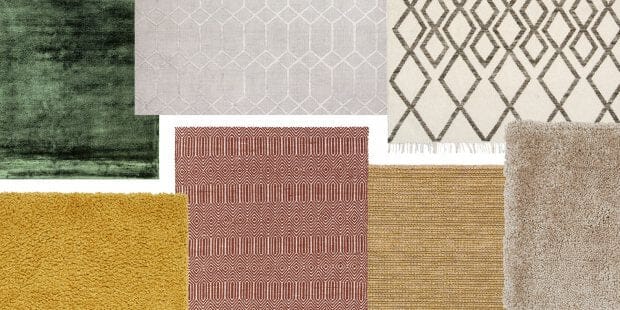 Shopping Tips
As we settle into the chilly season, we want to make our homes feel as cosy as possible - and the finding the perfect rug can be just the way to do that. Bring warming colours and indulgent textur...
Read more
Gift Guides
It's that time of year again! The festive season is in full swing and the big day is just around the corner! If you're struggling for that one last gift idea or just need a little inspiration, we'...
Read more