Wine Time!
Whether you're a wine connoisseur or have a little collection of favourites that you like to bring out when you have your friends and family around, store and display your drinks in style and keep them in arms reach so there's no need to fumble around anywhere else to find your favourite bottle.
 We have a selection of wine cabinets and stands so that you can find the size and style of product that is right for you.
Mozart Wine Cabinet
Aged grey oak featuring hand crafted parquet inlay, the Mozart cabinet is fashion focused as it boasts its contemporary design. Soft closing doors, interior lighting, glass shelves and distinct metal detailing, fitted with a generous amount of storage space, the Mozart is unrivalled in its stylish look. Shop now >>
New Horizon Wine Bottle Display Rack
Retro inspired and quirky in its form, the New Horizon display rack will help you to show off your best wine. Holding the bottles with the label out so you can see all your different drinks, the New Horizon is a handy and stylish wine rack which is sure to impress your guests. Shop now >>
Odessa Oak Small Wine Rack
A chunky display of contemporary design, the Odessa small wine rack has a subtle rustic edge. Along with the detailed metal handles featured on the small drawers of the unit, the Odessa is sturdy as it is stylish and is a great space filler, allowing you to keep your wines close by as well as any other essentials from around your home in the additional drawers. Shop now >>
 Featuring a warm and radiant oak finish, the Gloucester emanates a traditional style with a modern twist. The rounded corners and solid surfaces are accompanied by an interior mirrored back, glass shelving with LED downlights, storage compartments to ensure you can store your bottles vertically as well as horizontally and a pull-out chopping draw with a chopping board. Complete functionality through every detail, the Gloucester cabinet has your needs fulfilled. Shop now >>
Malvern Wine Cabinet
Available in grey or white, the Malvern wine cabinet blends classic and contemporary design. Gently line-washed oak tops and chrome handles complete the look and with enough space to hold 20 bottles as well as a handy drawer for additional storage needs, the Malvern wine cabinet is a great choice for wine lovers. Shop now >>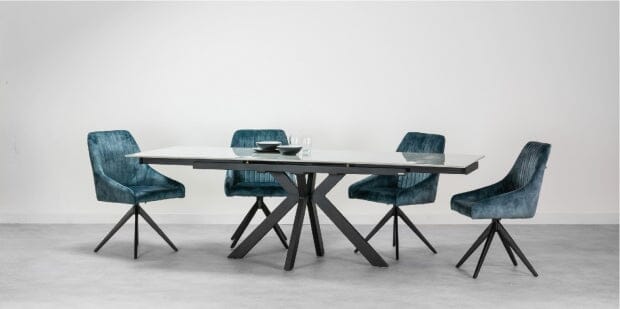 Ideas
Find your perfect dining table
Choosing a brand new dining table or even replacing an old favourite can be really tricky, especially if you already had a theme or style in place. It can be very daunting to find something that m...
Read more