Top eco-friendly picks
As we're all becoming more conscious of our carbon footprint and changing the way we think about our everyday actions, it's natural to start thinking more consciously about what we buy, be it clothing, food and even furniture.
Proving that sustainability can be stylish, our unique range of reclaimed wood furniture not only creates beautiful home decor but does so with minimal impact on the earth. Using upcycled timbers, each piece is handcrafted by experts to achieve a durable design that will stand the test of time, without participating in deforestation.
So if you want to start the journey of creating a more eco-conscious home, keep reading for a roundup of some of our most popular upcycled pieces...
Click the images for more info.
Blake Wide Sideboard
With bold industrial styling, the Blake collection still maintains a beautiful presence due to its unique, raw finish and natural colour palette. Abundant in hues of nature, light panels meet darker knots achieving a finished piece like no other, collaborating beautifully with the clean lines of the metal framework. Shop the Blake collection here.
Santiago Console Table
Inspired by coastal landscapes, a chic yet rural atmosphere is created by the charming Santiago collection. A soft two-tone finish is complemented by antique metal accents that add to the old-timey feel of this piece. Perfect for breathing new life into your hallway or dining room, the Santiago Console Table, although narrow and compact, will make a big impact on your decor. Style with driftwood accessories to enhance that coastal feel, or bring it right up to date with minimalist art and on-trend foliage.
Santiago Large Desk
Another striking piece from the Santiago Collection, the Santiago Large Desk is a must-have if you're looking to transform your home office into a classically styled space. This best-seller features several drawers and discrete cupboard space ideal for keeping important documents safely stored away. With a matching chair, bookcase and filing cabinet, you can complete the look in style. Shop the entire collection here.
True to its name, the Tuscan Spring collection is inspired by fresh Italian mornings with a beautiful finish influenced by the charming hues of aged olive trees. The slim panelling is bursting with signs of the timber's former life with intriguing nail marks, knots and unique grains. Fitting easily into both modern and classically styled homes, the Tuscan Spring Wall Mirror offers an effortless addition of nature-inspired design.
Tatum Extending Dining Table
Providing the Tatum Collection with a unique allure, rich nutmeg tones of the reclaimed wood are accompanied by a warm brass framework. The Tatum Extending Dining Table boasts an inviting presence, perfect for a comforting dining experience. This piece looks great dressed up with bold coloured accessories, and just as good dressed down with laid-back minimal accessories.
Madeira Dining Bench
Serving up Scandinavian vibes, the Madeira collection sees raw, blonde timbers take on contemporary silhouettes and modern styling. Made to complement the Madeira Dining Table, this beautiful bench also makes a great stand-alone piece, perfect as a hallway feature or as extra seating for guests. The versatile design allows you to style this piece however you like, go full Scandi with a sheepskin throw or take a boho approach with bright coloured cushions. Shop the Madeira Collection here.
Shop our Reclaimed Department here and start creating your eco-conscious home.
Remember to check back here for our weekly blog posts with more creative ideas and interior design advice for your home...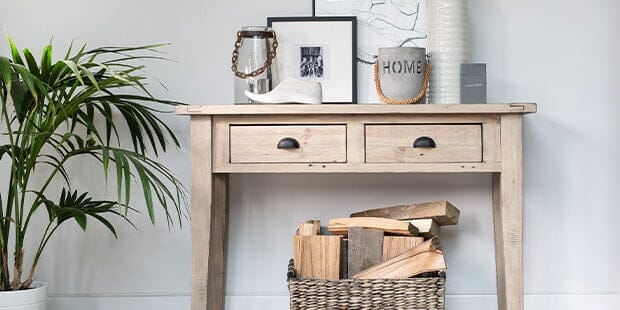 Style Advice
The hallway can often end up being the last piece of the puzzle when it comes to interior styling. You've perfected your decor in all other rooms, but now what to do with this empty walkway in bet...
Read more