Top 5 Guest Bed Solutions
Be the perfect host this Christmas with FW's savvy guest bed ideas!
Hosting guests at Christmas can be a busy and stressful time, with lots to prepare from something to eat to somewhere to sleep. That's why we've put together our best guest bed solutions to help you make hosting friends and family a breeze this winter...
Treat your guests to a comfortable and spacious night's sleep with the sleek and stylish Mona bed. With an easy to use Clic Clac function, the simple design of this modern sofa quickly turns into a convenient and cosy bed with ease.
Cristi Clic Clac Sofa Bed
Similar to the Mona, the Cristi sofa bed shows off a contemporary retro design with the addition of armrests for extra comfort. With a high quality reflex foam interior and the ease of the simple drop down action, the Cristi is a simple yet satisfyingly comfortable solution to hosting guests in your home this winter.
Plush Flip Footstool Bed
Stylish footstool by day, comfy bed by night. The incredible design of this footstool bed is the perfect space saving solution for hosting guests. Simply remove the cushioned lid and pull out the bed in one smooth motion to reveal the setting for a perfect night's sleep.
Napoli Sofa Bed
The Napoli is deceiving in style with a gorgeously soft fabric cover and deep plush cushioning for all round comfort. Stage the Napoli in your living room as the perfect bed in disguise for a brilliant space saving solution. Available in a range of colours.
Night Owl Duvet
Described as 'the duvet that's always ready for bed', The Night Owl Duvet offers an easy and stress-free solution to guest bedding. With a smartfil fibre filling, the night owl is machine washable and can be dried out in the same day, all ready for another cosy night's sleep. Not only is this duvet incredibly useful and convenient but also super stylish in a pre-printed grey marl or navy, with a funky contrasting binding available in either yellow or orange. The soft-touch microfibre material feels smooth on the skin whilst the 10.5 tog will keep your guests warm and cosy all night long. The Night Owl also comes with a matching pillow case which doubles up a storage bag when not in use, what more could you ask for from a duvet?
Pop down to your nearest showroom to browse a larger range of sofa beds, beds, duvets and mattresses.
Don't forget to check back here for our weekly blog with tips and tricks on styling your home in the latest trends with our fabulous range of products.
Be FW at home this winter...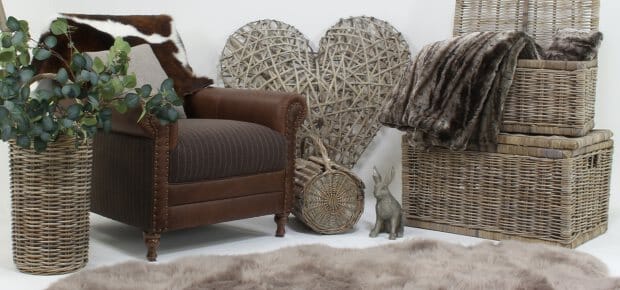 Ideas
Chic and classic, the best thing about wicker is that it looks good all year round, in the summer it brings a fresh outdoorsy feel to your home and in the winter it becomes cosy and inviting. Wicke...
Read more
Style Advice
Classic or cliche... Gold is here to stay this winter. As one of the most prominent and timeless trends of the season, there should always be room for gold in your home. To celebrate December 1st ...
Read more