Top 3 home decor trends for autumn 2019
As we draw closer to the winter months and look forward to cosy nights spent at home, we've rounded up our top 3 interior design trends for the new season ahead. From rich colour clashes to artistic pieces, take a read and see what's on the agenda for your home decor this autumn...
Jewel tones
This season, instead of sticking to one vibrant colour for your decor, bring your favourite jewel hues together in one rich, harmonious palette. Take confidence in introducing numerous colours into your living space with complementary pairings such as emerald and amethyst.
GET THE LOOK:
1. Alexander & James Jude Armchair Plush Brinjal £499
2. Mongolian Emerald Cushion £49.99
Pale timbers
Referencing sustainability and taking inspiration from eco-chic homes, pale toned oaks will start moving into the spotlight this season, casting previously popular darker woods aside. Celebrating a raw, natural beauty, blonde timbers are timeless in style and are a refreshing alternative to classic mid-toned pieces.
GET THE LOOK:
1. Madeira 200cm Dining Table £399
2. Small Twig Lamp Table £79
3. Salt Lake Dining Chair £119
Sculptural form
Feature distinctive silhouettes throughout your living space to achieve a contemporary and futuristic atmosphere. Bring soft, round-edged pieces together with other-worldly shapes for a more artistic approach to interior design, revisiting the retro futurism trend of the mid 20th century.
GET THE LOOK:
1. Marylebone Accent Chair £299
2. Gold Circles Mirror £89.99
3. Austin Copper Ball Floor Lamp £199.99
Remember to check back here for our weekly blog posts with more creative ideas and interior design advice for your home...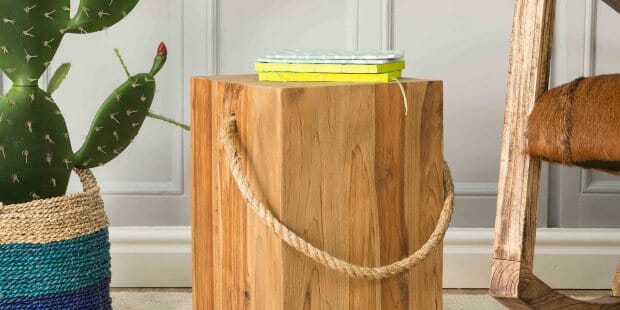 Style Advice
Fill your home with the latest trends and most beautiful pieces with this roundup of our New Season accessories. Click the images for more info...   Gold Round Wall Clock £19.99 Bringing together ...
Read more