The Power of Pastels
Pastels are great way of introducing colour in a softer form to your home decor and look good in any season. From powdered pinks to baby blues, we have gathered some of our favourite pastels in a rainbowed roundup to bring you the best of our gentle-toned pieces.
 Mongolian Putty Cushion
 It's hard to resist a bit of baby pink, especially in the form of this gorgeously soft lamb's wool cushion. Made from genuine suede and wool, this conspicuous cushion makes a colourful, not to mention luxurious, accent piece. Mongolian Putty Cushion £49.99.
Hoxton Table Lamp
 The Hoxton table lamp combines complementary tones of pink and chrome for a modern take on the classic desk lamp -  a great piece for creating a fresh and colourful office space. Hoxton Table Lamp £119.99.
Tetrad Truffle Grand Sofa
Unique and inviting, the Truffle sofa by Tetrad turns classic to contemporary with muted mint velvet and pale pink cushions - proving that colour statements don't always have to be bright and bold. Tetrad Truffle Grand Sofa £1,489.
 Harlow Armchair
Pastels look great when incorporated into minimalist pieces, and for this the Harlow collection is the perfect example. Woven in blue and white, the Harlow achieves a soft textured tone that is gentle on the eye without compromising on style. Harlow Armchair £299.
Pink & Gold Side Table
A popular power couple, pink and gold combine in this contemporary side table to create a statement of modern laid-back luxury. Just a hint of pink lets you introduce colour into your living space without imposing on your existing decor. Pink & Gold Metal Side Table £39.99.
Malvern Wall Mirror
 The Malvern wall mirror features a grey frame with fresh blue undertones creating a wonderful wall accessory that is perfect for increasing the brightness in your living space. Malvern Wall Mirror £139.
Discover our new Trend Shop for more stylish pastel pieces & remember to check back here for our weekly blog posts with more creative ideas and interior design advice for your home...  
Shopping Tips
 Make the most of the rest of summer by sunning in style with our stylish and comfortable garden collections -now with reduced prices!  Click the images for more info...   Made for two, but temptin...
Read more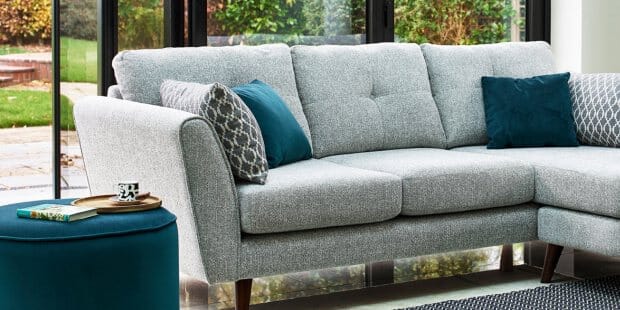 Style Advice
It's not small - just cosy! If you've got a smaller living room and don't want to compromise on space with your sofa, then we've got you covered with our petite sofas roundup. Click the images for...
Read more