The Coastal Look
The coastal look doesn't just have to be for those who live by the sea. Bring the summer vibes home with these gorgeous coastal inspired additions and turn your home into an idyllic rural setting. Click the images for more info...
  This cute white starfish has a charming rustic finish that will bring a splash of life into your home. Covered in a distressed white paint, this piece embodies a gorgeous natural feel that looks like it has been taken straight from the seaside! White Starfish £29.
Wicker and sea grass are great materials for building a modern coastal look. With a real homely feel, this wicker basket is a stylish storage solution with a natural aesthetic that makes it a timeless piece for your home. Wicker Basket £29.
 These wonderful lamp tables are handcrafted with natural wood, making each one unique with its own individual grain and silhouette. With a naturally light colour palette, these twig stands make the perfect coastal accent piece. Twig Stand from £79.99.
The unique head of this modern tripod lamp takes influence from traditional marine lighting set on a bright whitewashed wood base. This piece is perfect if you want to achieve a more contemporary coastal look. Whitewash Tripod Floor Lamp £109.99.
 Along with the chic whitewashed paint effect, the reclaimed timbers of the Camilla mirror give it a wonderfully rustic finish. From the detailed wood carving to the light colour palette, everything about this piece makes it perfect for a coastal setting. Camilla Wall Mirror £99.99.
Found floating on seas or washed ashore, Driftwood is a gorgeous material that undeniably suits the coastal look with its unique appeal.  This driftwood candle holder makes the perfect rural centrepiece with its naturally eye-catching design. Driftwood Candle Stand £15.99.
What better way to achieve the coastal look than a statement piece of coastal wall art? This gorgeous abstract painting uses colour and texture to create a wonderful lifelike effect. Blue Coast Liquid Wall Art £99.99.
Remember to check back here for our weekly blog posts with more creative ideas and interior design advice for your home...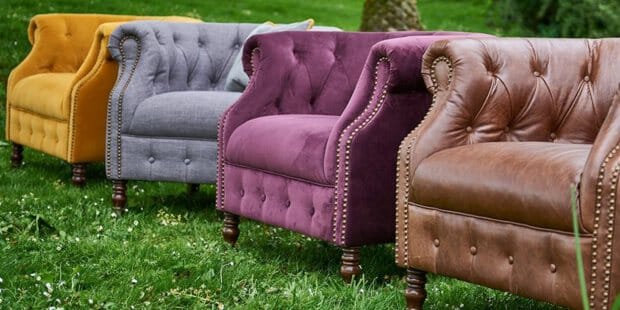 Choosing the perfect accent chair
Accent chairs are the perfect way of bringing something new and fresh into your living space. With more than just the simple functionality of a chair, an accent piece can add contrast to your curr...
Read more