Stylish Coffee Table Ideas
For many homes, the coffee table is the heart of the living room; the central point to family gatherings and parties, but also simply a spot to place your drink or even rest your feet. So if you're looking to freshen up your living room decor without breaking the bank, these coffee table ideas may just be the place to start.... Click the images for more info.
Modern Country
Create your very own idyllic country setting by incorporating natural woods and painted pieces throughout your living space Painted wood is a huge trend this year and can be a great way of softening your decor and channelling a modern elegance. Embodying all these features, the Camilla coffee table is the perfect choice for more rural interior styles. Providing both style and practicality, this coffee table makes a wonderful centrepiece for your living room. Camilla Reclaimed Coffee Table £249.

Reclaimed Chic
With environmental awareness making its way to the forefront of interior design, there's never been a better time to opt for reclaimed furniture for your home. Take striking up-cycled wood pieces and combine with mixed metals to create a chic industrial look that will never go out of style. From our reclaimed Blake range, this coffee table boasts all the best features of natural materials from its unique, charming wood grain to the beautiful colour palette taken straight from nature. Blake Reclaimed Coffee Table £329.

Sleek Retro
Go for a bold retro look by pairing glass and wood for a real interior statement. With Scandinavian design as an ever-growing interior movement, unique 70's styled pieces work wonders in complementing this popular trend. This style-conscious Cruz coffee table shows off on-trend oblique legs and retro curves in a beautiful walnut finish, revisiting some of the best moments of 20th century style. Cruz Coffee Table £199.

Classic & Ornate
If you prefer a more classic, rustic appeal, try something with a vintage gold finish to add light and space in an alternative ornate fashion. Gold is a timeless trend that, if done right, can be fed throughout your home without over imposing on your current decor. This gold nest of tables works in contemporary interior styles as well as traditional, offering an alluring style that is both eye-catching yet soft and elegant and are great for smaller living rooms that might not fit a traditional style coffee table. Ethan Nest of Tables £189.

Concrete Style
One of the top home trends of 2019, natural stone and marble-effect pieces can modernise any home with a contemporary take on high-end design. Featuring a bold silhouette and a neat, compelling design, the Porto coffee table makes a statement of industrial style with a distinctive concrete look surface. Porto Coffee Table £199.

Remember to check back here for our weekly blog posts with more creative ideas and interior design advice for your home...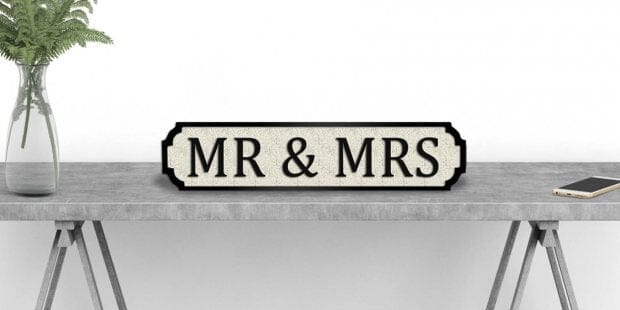 Gift Guides
Wedding season is officially in full swing, so it's time to start thinking of the perfect gift idea. Home ware is a great place to start and we have gathered some of our most romantically stylish ...
Read more