Sofas for small spaces
It's not small - just cosy!
If you've got a smaller living room and don't want to compromise on space with your sofa, then we've got you covered with our petite sofas roundup.
Click the images for more info.
MERTON
Made for a neat, petite lifestyle, the Merton collection features slender silhouettes and no-fuss style, made to fit into any home. With an on trend mid-century design, the Merton sofa naturally gives the feeling of more space without compromising on style.
Merton Large Sofa £699. W:199cm x D:94cm x H:88cm
CHARLIE
The Charlie's cute compact form is complemented by charming features. Low curved armrests along with with dark and elegant feet provide a vintage look brought to the 21st century.
Charlie 2 Seater Sofa £499. W:160cm x D:95cm x H:92cm
HARLOW 
The Harlow collection offers up minimalist style with a stylish Scandinavian-inspired design, using thin armrests and dainty legs to give the illusion of a more open space. The Harlow is the perfect choice for a family with limited room.
Harlow Corner £799. W:278cm x D:152cm x H:88cm 
RITZ
For small spaces craving a real design statement, the Ritz sofa can offer just that with its high-end retro look. Made with luxurious materials, the Ritz collection will bring a bold new look to your living room without imposing on your space.
 Ritz sofa £599. W:175cm x D:94cm x H:76cm
FORTE
Great for studios or homes that often host guests, the Forte sofa bed offers a 2 in 1 space saving solution. With a neat, compact design, this smart 2 seater sofa is the perfect bed in disguise to suit smaller living spaces.
Forte 2 Seater Sofa Bed £599. £W:174cm x D:230cm x H:97cm
Remember to check back here for our weekly blog posts with more creative ideas and interior design advice for your home...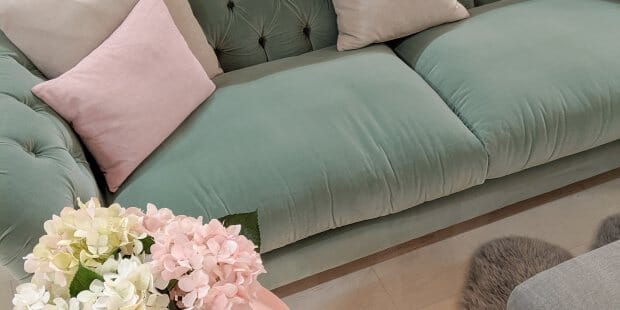 Style Advice
Pastels are great way of introducing colour in a softer form to your home decor and look good in any season. From powdered pinks to baby blues, we have gathered some of our favourite pastels in a ...
Read more