Pantone Colours Of The Year - 2021
2021 came with a surprise when it brought us not one, but two Pantone colour's of the year! Two independent colours, Ultimate Grey and Illuminating Yellow come together to highlight how different elements can work together to convey union and support.
PANTONE 17-5104 Ultimate Grey + PANTONE 13-0647 Illuminating Yellow 
"The union of an enduring Ultimate Grey with the vibrant Yellow Illuminating expresses a message of positivity supported by fortitude. Practical and rock solid but at the same time warming and optimistic, this is a colour combination that gives us resilience and hope. We need to feel encouraged and uplifted; this is essential to the human spirit." A message from Leatrice Eiseman, Executive Director of The Pantone Colour Institute.
We couldn't have said it better ourselves. It is evident that we all have endured and overcome many obstacles over the last year and although we don't know what this year will hold, we hope that it can be a positive and promising one filled with assurance, strength, hope and love!
Your home can also embody strong, bold and bright qualities that you can carry through the year with you. Below are a collection of our furniture pieces that feed into the trend and mimic the colour's of this year.
Pluto 3 seater sofa 
 Supporting U.K. manufacturing, the Pluto 3 seater sofa is upholstered from blended woven grey fabrics to produce a soft yet sturdy feel to the sofa. The retro styled silhouette provides modern styling and comfort whilst the addition of yellow scatter cushions offers a splash of colour. Shop pluto >>
Bingham cushions and Spiral rugs
Made from matte velvet fabrics, the texture of the Bingham cushions provides smooth and soft touch comfort. Bringing contemporary style into your living space, the silver provides an elegant touch whilst the mustard adds a bright and welcoming feel.
The Spiral rugs in both mustard and grey feature a soft and chunky shaggy design to provide depth and comfort. Constructed by a tufting method, the thick pile feels incredibly cosy and will add warmth to your space. 
Victoria James Marlborough accent chair 
 The modern Marlborough accent chair designed by Victoria James will give your living space a contemporary feel. The vertically quilted back cushioning provides sumptuous comfort and the curved silhouette gives off a relaxed look. The slender dark legs against the smooth turmeric velvet create a striking contrast and an eye catching design. Shop the Marlborough >>
Rolo dining chair 
 The Rolo dining chair provides superior comfort with it's cushioned seating and padded back rest. The swivel motion provides a relaxing dining experience and ease of movement. The addition of zig-zag stitching provides that extra attention to detail to give the Rolo a high-end feel. Available in grey and mustard, the Rolo fits perfectly with the pantone trend, but it is also available in an additional two colours so you can style according to your dining room decor. 
Aiden dining chair 
Made with a soft touch velvet fabric the Aiden dining chair will compliment any look you're trying to achieve. The pleated back with the addition of detailed vertical stitching gives the chair a stylish lift. The black splayed legs channels the industrial charm and the conveniently placed matching sleek handle allows for portability around the home. 
Exclusive Chicago bed frame 
  The Chicago bed frame boasts a luxurious and bold design. Featuring deep crystal studding into the vertical pleats of the frame, this hand-upholstered exclusive bed frame will bring a touch of glamour to your bedroom. 
Umbrella wall art
This stylish piece of artwork will really brighten up your day. The yellow umbrellas in the rain stand out against the black and white backdrop to create a beautiful contrast within the chrome finished frame. Hand embellished with liquid glass touches, the sparkle effect and colourful elements are a great feature for your wall. 
These were just a few of our top picks to get you started on the trend, explore our website to find your own.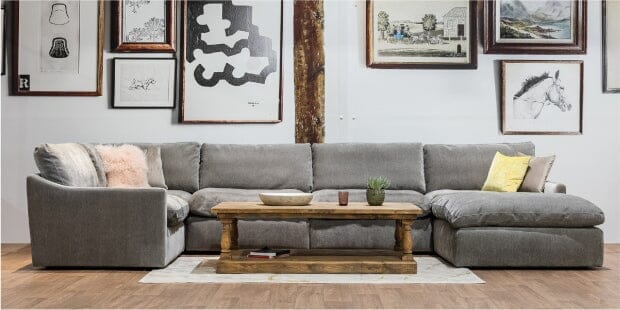 Shopping Tips
We've selected our favourite corner sofas that we think you'll love! Each one has its own story and there's something for everyone.  Whether you're looking for a comfy and cosy sofa that you can s...
Read more