New lighting additions
An essential part of creating a cosy atmosphere, introducing the right lighting to your room can uplift the darkest corners. Celebrate spring with our new atmospheric lighting additions, perfect for updating and refreshing your home decor.
Classic and stately, this traditional-style table lamp is uplifted with a fresh, modern colour scheme. The tapered, pleated lampshade adds elegant detailing that suits both modern and traditional styled homes.
Black & Copper Task Floor Lamp
Marble and copper, two materials of the moment, this contemporary floor lamp blends industrial styling with an on-trend colour scheme to create a unique statement piece.
Blue & White Ceramic Ginger Jar Table Lamp
Utterly stunning and unique, this ceramic table lamp is handpainted with a beautiful Moroccan style design. The intricate pattern is set onto a soft cream ceramic vase styled as a traditional ginger jar.
Grey and Blue Detail Ceramic Table Lamp
Another beautiful handpainted piece, this grey table lamp features a soft geometric pattern set into a chic grey ceramic jar. Shaped like a traditional tea caddy, this unique piece feels classic with a modern twist.
Grey Oversized Task Floor Lamp
A new colourway of our popular brass oversized task lamp, this sleek grey floor lamp combines style and functionality to create a real statement piece. With an adjustable head and body, you can move it around to light up darker areas, ideal for reading corners for some extra ambience.
White Wash Wood Column Table Lamp
Perfect for creating that shabby chic look, this wooden table lamp uses rustic panelling and a whitewash effect to achieve a stylish country cottage look. The chrome accents add a modern element while the cream cotton shade brings a laid back feel.
Shop all lighting here >
Remember to check back here for our weekly blog posts with more creative ideas and interior design advice for your home...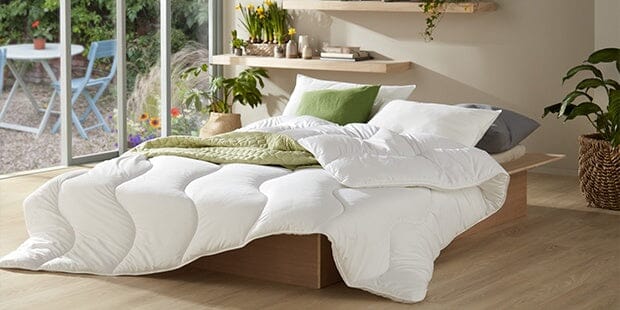 Blog
In celebration of Earth Day 2020, we're excited to introduce to you our newest eco-friendly addition to our bedroom department. Say hello to the brand new Eco Duvet by The Fine Bedding Company, an...
Read more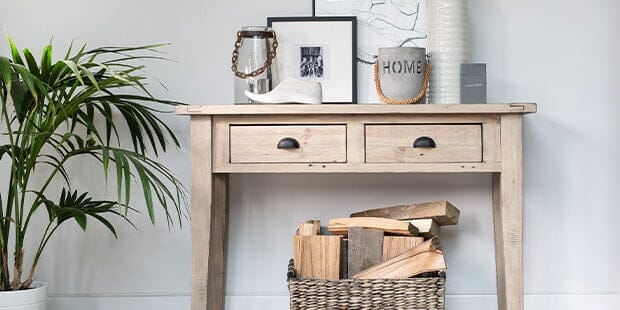 Style Advice
The hallway can often end up being the last piece of the puzzle when it comes to interior styling. You've perfected your decor in all other rooms, but now what to do with this empty walkway in bet...
Read more