New Arrival: The Rio Collection
Incorporate vibrancy and a soft botanical accent into your home with the powerfully stylish Rio collection. Inspired by the natural colour palettes of exotic agriculture, the Rio collection is made for summer - the perfect addition for livening up your living space. Click the images for more info...
A lively botanical beauty with an on trend minimalist design, the Rio 3 seater undoubtedly takes the spotlight. With a wide choice of fabric groups, you can choose the perfect look to complement your living space.
The Look...
Inspired by the luxury of the energetic teal velvet, we decided to bring a mix of natural botanical pieces along with vintage gold to create a bright contemporary feel with a slight retro touch. Gold and teal make the perfect power couple and work well throughout the summer and winter months. Adding elements of green hues through the wonder of plants brings a softer, natural feel and is a brilliant mediator for bringing strong colours together.
2. Gold Bilbao Mirror: £199.99
3. Treiste Gold Circle Coffee Tables: £199.99
4. Potted Crassula: £29.99
5. Corby Floor Lamp: £229.99
The Rio corner provides you with a spacious place to relax whilst not lacking in style. Features typical of Scandinavian design such as clean lines and thin arms, mean that this piece is large but unimposing, perfect for homes that require the illusion of more space.
If you're just looking for a small splash of colour for your living space, the Rio armchair works perfectly as an accent piece to contrast other styles.
Shop the whole collection now >
Remember to check back here for our weekly blog posts with more creative ideas and interior design advice for your home...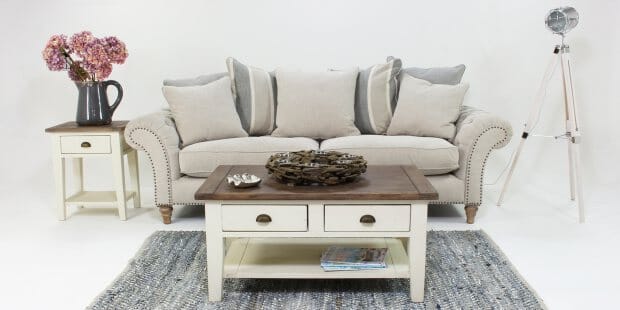 Style Advice
The coastal look doesn't just have to be for those who live by the sea. Bring the summer vibes home with these gorgeous coastal inspired additions and turn your home into an idyllic rural setting....
Read more