New Additions From Alexander & James Designs
We're very excited to share with you some beautiful additions to our sofa collections from Alexander & James Designs.  Styles varying from classic elegance to minimal and modern, there is a sofa for everyone.
Introducing you to the Summerton
Warm and minimal, the Summerton reflects glamour and luxury through its elegant form and muted teal velvet upholstery. This collection embodies stylish handcrafted detailing, through the sizeable metallic stud buttons to the subtle pleating, there is not a single detail missing that doesn't reflect the overall luxurious feel of the Summerton.
With an array of size options available, scatter cushion choices as well as additional detailing options for the studs and piping, make the Summerton your own. With the addition of cloud like seating to provide optimal comfort and support, you can enjoy the Summerton in all its glory! 
View the Summerton Collection >>
And a warm welcome to the Wilson
The Wilson sofa collection gives you the best of both worlds as it combines raw, natural leather with soft, comfortable fabrics.  With tightly rolled arms, weathered oak feet and the intricate detailing from the antique studs, the classical design of the Wilson collection from Alexander & James allows you to add a hint of luxury to your room.
Offering plenty of seating space to create the cosiest of rooms, great for family time, snuggling and lounging the day away, the Wilson can transform any space with its stunning blend of modern and traditional style. 
As a valued stockist of Alexander & James, we've got many more of their stunning designs coming soon to FW Homestores that you won't want to miss, so watch this space!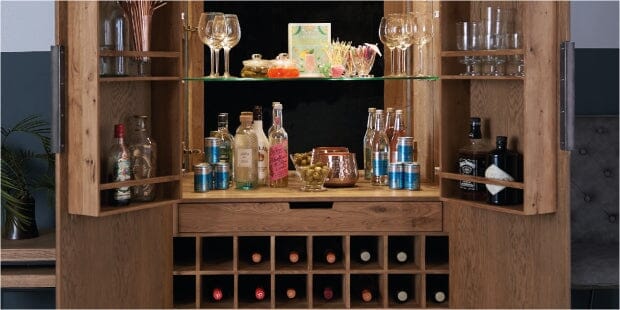 Shopping Tips
Whether you're a wine connoisseur or have a little collection of favourites that you like to bring out when you have your friends and family around, store and display your drinks in style and keep...
Read more