National Bed Month: Top tips for a better sleep
To Celebrate National Bed Month we are giving away 2 free Luna Pillows by The Fine Bedding Company with any bed or mattress order over £199, helping you to get the best possible sleep!
As the days become lighter and we finally escape the clutches of the long cold winter, we can often find ourselves struggling to sleep. Our sleep patterns can start to change during the transition in seasons so now is the perfect time to make some changes to your sleep environment. From a technology detox to a complete bedroom makeover, these are our top 5 tips for a better night's sleep...
1. Digital detox
Ditch the TV, hide your mobile and switch off distracting lights... It might be easier said than done, but studies have shown that using technology late at night, especially when in bed, can disturb your sleep pattern and even make you feel more tired when you wake up. In an article by Psychology Today, a Harvard backed research paper looks into the negative effects that screen usage in bed has on the body. Not only can your mobile phone, laptop or TV cause you to take longer to fall asleep, but can actually decrease your REM cycle, meaning you lose quality resting time. So the first key to a better night's sleep is to ditch the tech and create a mobile free zone. Try giving yourself a digital curfew that suits your bedtime routine and get used to hiding your mobile after a certain time...
2. Fresh bedding
Possibly an easier goal to achieve, fresh bedding is a great way of creating a renewed, relaxed energy in your bedroom. Make sure you have the correct bedding for the time of year to ensure you have the best temperature control possible. Opting for a breathable 10.5 tog duvet is the perfect choice for the spring months, making sure there's no more tossing and turning from uncomfortable heat. Shop duvets here >
3. The perfect mattress
Did you know it's recommended that you change your mattress every 7 years? According to sleepcouncil.org, throughout 7 years a mattress will endure over 20,000 hours of wear and tear, not to mention that we lose half a pint of fluid every night and shed approximately a pound of dead skin cells each year! Choosing the perfect mattress falls entirely down to personal preference and what you feel is the most comfortable option for you. With such a wide variety of mattress styles, from sprung to memory foam, natural to latex, sometimes choosing your new mattress can seem an overwhelming task, so we recommend speaking to one of our mattress experts on 0345 4677276. Shop mattresses here>
4. Relaxing colour scheme
To create a relaxing bedroom environment, it's important not to forget your decor. Choosing calming colour schemes such as purples, blues and greens, can help to create a tranquil space perfect for encouraging a good night's sleep. Opt for a soft green to spark thoughts of nature and the outdoors, or go for a soothing blue, reminiscent of calming ocean waves...
5. Cosy textures
And of course, nothing makes us feel more sleepy that thick cosy textures. Fill your bedroom with fur blankets, velvet cushions and feather pillows and create the ultimate haven of comfort. If you want that extra feeling of cosiness, place a thick pile rug by the side of your bed as a treat for your feet as you get in and out of bed. This can also be a great way of adding a touch of luxury to your room as well as a stylish pattern or colour. Shop rugs now >
Don't forget, we are giving away 2 free Luna Pillows for every bed or mattress order over £199 to celebrate National Bed Month!
Remember to check back here for our weekly blog posts with more creative ideas and interior design advice for your home...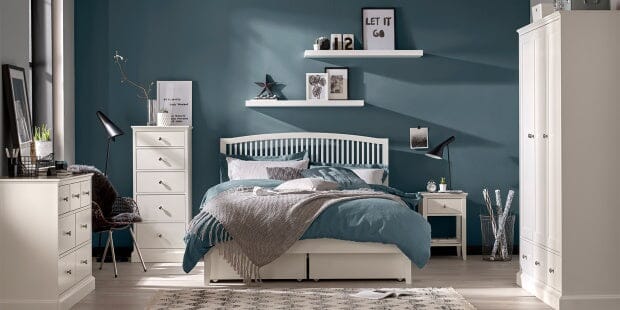 Gift Guides
  Mother's Day 22.03.2020 With Mother's Day just around the corner, surprise her with something special and unique this year. Whether it's for your mum, gran, step-mother or carer, these gift ide...
Read more