Layered With Style | How To Style Your Sofa
Layering a room can completely transform a space and give it the elements it needs to really feel like home. By making use of interior design ideas, we can transform our rooms to give them a stylish lift which will really help us to feel comfortable and enjoy our home.
Sofas can play a part in this as most often they take centre stage in your living space. There are many ways to layer and add depth to your sofa. We've have picked out 4 ways you can do this by styling our new Victoria James Wilson sofa collection. Hopefully, this can provide you with some inspiration to achieve the look you want to create.
Cushions
One of the easiest ways to change the look of your sofa is by adding cushions as they can come in an array of sizes, shapes, colours and styles. This mid-century style sofa features beautiful panelling and deep buttoning, so you don't want to add any cushions that have a lot of detail to them. A contrasting colour stands out against the sofa and brightens the overall space. We have also opted for a smooth velvet fabric to pair with the luxurious upholstery of the sofa.
Asides from the ceiling light, having an additional light source in your room can really lift the space. Dim lighting can add warmth to the space and create ambience whilst spotlights, bright or angled lights can accentuate different elements of the room such as the sofa.
Additional textiles can add depth and warmth to your room and combined with your sofa can make the space look and feel extra cosy and comfy. Mixing and matching different textures works great and it gives you the ability to tailor the look and feel you want to achieve in your room. Opting for plush, shaded and soft rugs can keep the elegance flowing through the room whilst adding shaggy rugs and throws adds a cosy, homely feel. As we have a vibrant sofa with bold accessories, a cooler, more neutral colour for the rug works best.
Furniture Pieces 
Adding other pieces of furniture to the space, especially around or close to your sofa can complete the room and have practical uses. Try to select pieces that will compliment your sofa, for example this green marble top side table with sleek gold legs works well with the style and colour of our Victoria James Wilson sofa.
The possibilities are endless and you can have lots of fun creating and recreating your ideal space. We hope your inspired – we'd love to see your styled creations, tag us in your socials!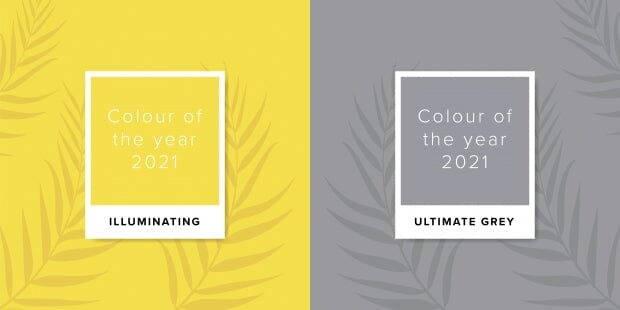 Blog
Pantone Colours Of The Year - 2021
2021 came with a surprise when it brought us not one, but two Pantone colour's of the year! Two independent colours, Ultimate Grey and Illuminating Yellow come together to highlight how different ...
Read more