How to style your dining room for autumn
As we quickly settle into autumn, paving the way to a winter hibernation in our homes, it's not uncommon to start reconsidering your decor, or at least just adding some fresh updates.
The dining room tends to become the heart of the home during these colder times, so we've got a few tips for transitioning your dining room decor from summer to autumn; creating a cosier space ready for anything from small family meals to entertaining guests.
1. Add soft textures
Taking a leaf from the ever-stylish Scandinavians, adding some softer textures can bring a real homely feel to your dining room decor. As well as creating extra comfort, a simple dining chair cushion also gives you the opportunity to add your favourite colour or pattern for a personal touch.
To achieve that authentic Scandi look, try our sheepskin throw draped over a dining bench for an effortless and elegant addition of texture.
Madeira Dining Bench £149
Grey Sheepskin £259.99
2. Update your centrepiece
Set the mood of your entire dining room by choosing the perfect centrepiece. To celebrate and complement the autumnal weather, try moving away from summer florals and instead opt for rustic twigs and branches.
Pussy Willow branch £11.99
3. Take inspiration from nature
Take a walk outdoors and use what's around you to bring little pieces of nature into your home. Whether it's a bowl of pine cones or a garland of evergreen foliage, mother nature has plenty to offer up to help you bring the beauty of autumn indoors.
If you think your dining room needs an update but you're not quite ready to partways with your table, why not try a fresh look with brand new dining chairs? Try rustic hues for a timeless autumnal look that will also flatter other seasons. Our dark brown Carson chairs do this just right by adding a contemporary twist to a neutral colour palette.
5. Experiment with lighting
Instead of relying on a simple bright ceiling light for your dining room, set a cosier atmosphere by incorporating accent and ambience lighting in darker corners of the room. Try an oversized task lamp focusing on something other than your dining table such as a sideboard or accent chair to bring some depth to your room.
Of course, candles are another great way of achieving cosy autumnal vibes throughout the home and never fail to perfectly accessorise a dining table. Try bunching a variation of colours and sizes together to create a unique table decoration.
Remember to check back here for our weekly blog posts with more creative ideas and interior design advice for your home...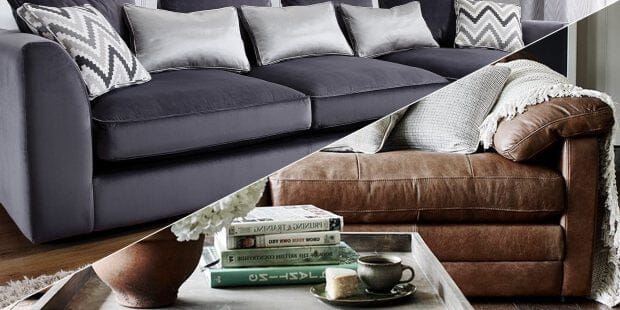 Shopping Tips
Which one is right for you? Choosing your new sofa isn't a decision that should be taken lightly. As the heart of a living space, it is a piece of furniture that should last for years to come, in ...
Read more