How to Style Velvet
In the world of interior design, velvet is one of those trends that never really disappears. Whether it's a subtle hint in the form of a stylish bolster cushion or a bold statement with a luxurious corner chaise, there's always room to incorporate velvet into your home.
This plush pile fabric can be pretty daunting to style if you've never really used it before - so we've put together a few tips on bringing this interior phenomenon into your home for the first time, be it in a traditional or contemporary way.
Bright & Bold
At times velvet can tend to be associated with dark hues that remind us of winter and richer colour palettes. But nowadays, with velvet being accepted as a timeless piece over a fashion fad, we can now get away with incorporating this fabric in a whole new spectrum of colours. If your home has a neutral colour scheme, a splash of velvet in a bright colour such as this Ochre Ruched cushion can aid in bringing some life to your decor, adding an exciting and refreshing tone. Ochre Ruched Cotton Velvet Cushion - £29.99.
Contemporary Luxury
Choosing velvet for your sofa fabric can be a nerve-racking decision; often we can take a step back and opt for more muted designs when it comes to the most important pieces of furniture in the home to avoid regretting a hasty fashion disaster. We can now take comfort in knowing that velvet sofas are a trend that's here to stay, becoming more popular each season in different colours and upholstery styles. For a traditional meets modern look, our Scott 3 Seater Sofa takes elements of contemporary mid-century style and adds a blend of classic upholstery for the ultimate take on modern luxury. Scott 3 Seater - £699.99.
Old-timey Charm
Velvet works just as well in more traditional settings as well as contemporary. Tufted styled upholstery is a great way to achieve this look, bringing elegance to your home in the form of vintage glamour. Choosing this look can also make an interesting addition to more modern spaces when placed as an accent feature such as this Bouji Occasional Chair in an alluring Amber Green. Bouji Occasional Chair £349.99.
Feature Pieces
If you're nervous about bringing velvet in large doses into you home, it's a good idea to start small and introduce feature pieces that work in bringing colour, texture or a contrasting style into a chosen space. Footstools and accent chairs are a great way to reach that mid-way point between large items such as sofas and smaller accessories such as cushions. This luxurious plush Perkins footstool makes a great feature piece either as a footstool or a side table with a glamorous serving tray placed on top. Perkins Footstool Velvet Crimson - £149.99. 
Statement Bedroom
One of the best things about velvet is how it instantly emanates comfort, making it the perfect fabric to incorporate into the bedroom. A statement velvet bed can completely transform the atmosphere of a room with luxury and relaxation inbuilt into the design. Our range of Imperio beds available in an array of velvets are traditionally upholstered and hand-finished in the UK, the perfect choice for when you're opting for the look of luxury. Imperio Chesterfield Bed Frame - From £499
 Remember to check back here for our weekly blog posts with more creative ideas and interior design advice for your home... 
(Blog image: Ritz G Plan Vintage The Fifty Nine Corner Sofa)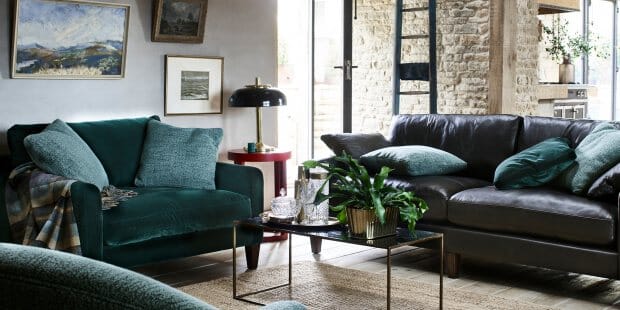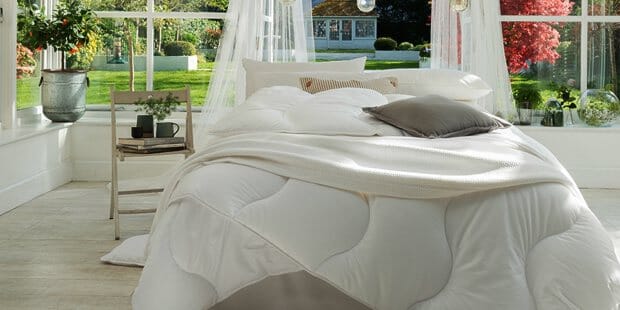 Ideas
5 Simple Home Additions for Spring
Spring is the perfect time for revitalising your home - from fresh colour schemes to new furnishings, we can begin to create a brighter indoor atmosphere paving the way to summer. If you're stuck ...
Read more