How to extend our Barron Dining Table
Our Barron dining table has settled in well into it's new Ceramic family here at FW Homestores, so well that it is one of our most popular ceramic tables!
 One of the great things about the Barron is that it extends to accommodate for more around the table, and as it is so popular, we think it's a good idea to show you all a step-by-step guide of how to use this extending feature.
Firstly, what you will need to do is pull out the end of the table which stores the extension leaf. The way to do this is to pull on the top black edge which is attached to the legs of the table, this will allow the legs of the table to be pulled away.
Once you have done this and pulled out the table legs as far as they can go, the inner extension leaf will be exposed.
Next, lift and twist the extension leaf 90 degrees so the long edge of the leaf mirrors the edge of the ceramic tabletop.
Now push the extension leaf along with the legs that have been pulled out back towards the table until both the ceramic tabletop pieces are adjacent with each other.
And there you have it, it's as simple as that, no fuss and no need to lock it in place. The Barron doesn't get it title for nothing!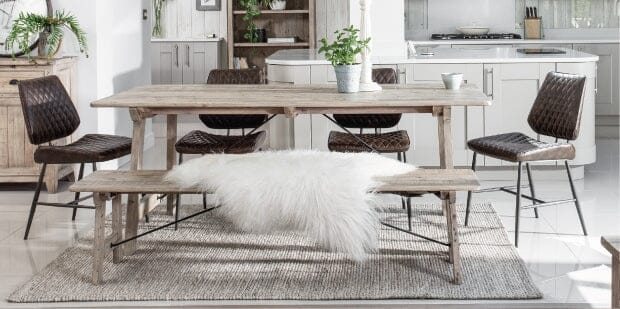 Ideas
At FW Homestores we have a wealth of furniture and products for your home so that you can find the right fit for the style and look you want to achieve. With designs ranging from sleek and Scandi,...
Read more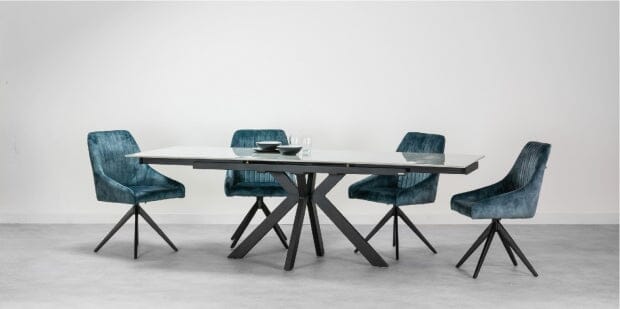 Ideas
Find your perfect dining table
Choosing a brand new dining table or even replacing an old favourite can be really tricky, especially if you already had a theme or style in place. It can be very daunting to find something that m...
Read more