How to dine Scandinavian style
Scandinavian design embraces minimalism, functionality and the idea of a simplistic no-fuss lifestyle. Emerging as a popular trend in the 1950's, this interior style has now become an interior phenomenon that every 21st century home desires, and it's easier to achieve than you might think...
Starting with the room that some people regard the heart of the home, these design-lead pieces will bring a stripped-back, refreshing atmosphere to your dining space creating a laid-back and stress-free environment.
Click the images for more info...
Monet Extending Dining Table
With a design that takes an industrial twist on Scandinavian style, this natural wood table is a simple way of introducing a fresh minimalist feel to your dining room. Made from entirely natural materials, each piece is completely individual with its own unique grain and charming blemishes.
Monet Dining Bench
As well as looking stylish, dining benches can work in bringing more space and light to a room with their low set design avoiding the fuss of too many chairs. The Monet dining bench complements the matching table with its clean-cut, modern and industrial inspired design - the perfect Scandi dining addition.
Mink Sheepskin Rug
Of course, something we have in common with the Scandinavian countries is our chilly weather that we put up with for the majority of the year. Draping a fur blanket or rug over your dining bench is a staple Scandi look that is there not only to make a stylish statement but also to keep you warm and cosy.
Zante Console Table 
Adding a retro touch, this console table makes a great dining addition set off to the side of a room to display your favourite accessories. With a minimalist design and a classic mid-century wood & glass combo, this console table emanates cool Scandi vibes with a fresh take on occasional furniture. 
Guggenheim Dining Chair
One trademark of Scandinavian interior design is a sleek, oblique leg. The Guggenheim dining chair features those slightly angled legs in a slick black metal along with a rattan-style seat for a contemporary combination that is undoubtedly stylish.
Natural Bamboo Wood Tripod Lamp
Tying in the oblique leg staple, this modern tripod floor lamp uses light wood and a fresh white shade to create a bright addition to the darker corners of your home. The overall look channels classic Scandinavian influence with a crisp minimalist design that is perfect for the modern home.
  Remember to check back here for our weekly blog posts with more creative ideas and interior design advice for your home...  
Gift Guides
Treat your Mum with a present she deserves this Mother's day with these gorgeous gifts starting from just £19.99. From quirky wall art to luxurious velvet pieces, you're sure to find the ideal gif...
Read more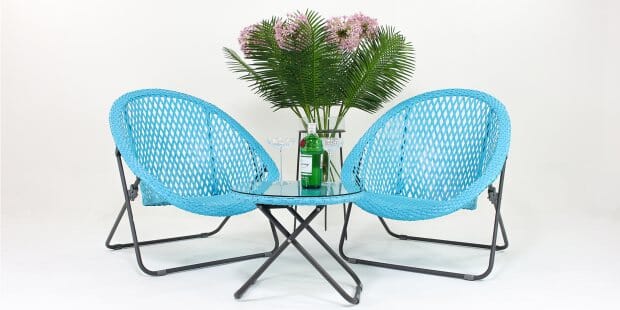 Style Advice
With the vacant British sun finally making an appearance in the past few weeks, we've been jumping ahead of ourselves and getting super excited for lazy summer days spent lounging in the garden. Wi...
Read more