How to create a motivating office space
Change is in the air with the kids back at school and the summer holidays now seeming just a distant memory, September can often feel like the time for a new start with new opportunities. If you feel the post-summer blues creeping up, now is the perfect time to start creating an updated work space to keep you motivated with fresh decor and a fresh mindset. To help you create your dream work space, we've gathered together some of our most stylish and inspiring office pieces... 
Click the images for more info...
Holborn Accent Chair
 Give your office the ultimate update with this striking and comfortable velvet accent chair. Combining an on-trend colour combo of pink and gold, this chair brings strong industrial style and soft textures together for a contemporary accent piece. 
Holborn Accent Chair £279.
Sloane Desk
With a retro mid-tone oak finish, the Sloane desk will give your office a cool new look with a touch of nostalgia. Pair with other minimalist pieces to create a laid back Scandinavian style work space. 
Sloane Desk £299.
Calendar Block
 Stylish and practical, stay organised and up to date with this rustic antique-style calendar block.
Square Block Calendar £39.99.
Blake Tall Bookcase
 Industrial design meets sustainability with the chic and contemporary Blake bookcase. Chunky open frames hold four reclaimed wooden boards creating effortless style that's perfect for a minimalist office look. Style with green features such as house plants to keep the eco theme flowing throughout the room. 
Blake Tall Bookcase £349.
Black & Copper Task Table Lamp
Combining copper and black with a marble base, this lamp creates an edgy, industrial look that will add that finishing touch to your desk space. Industrial pieces look great styled in rustic settings, so you don't have to have a modern home to make this piece work with your decor.  Black & Copper Task Table Lamp £45.99.
Blake Small Desk
 Another stylish edition from the popular Blake collection, this double drawer desk features one of a kind reclaimed timbers with black metal features for an industrial chic look. The perfect choice for creating an eco-conscious office space. 
Blake Small Desk £299.
Guggenheim Chair
Made in Denmark with Scandinavian craftsmanship, the Guggenheim chair features a stylish rattan design with sleek black legs. The comfortable curved design means you'll feel more motivated than ever to spend quality time at your desk. Drape a fur blanket over the back and add your favourite cushion to enjoy your office space in true Scandinavian style. 
Guggenheim Chair £349.
 Remember to check back here for our weekly blog posts with more creative ideas and interior design advice for your home...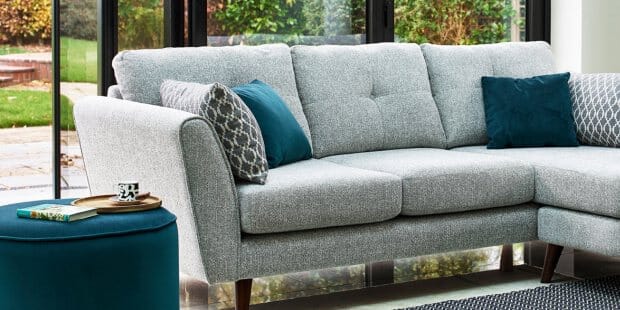 Style Advice
It's not small - just cosy! If you've got a smaller living room and don't want to compromise on space with your sofa, then we've got you covered with our petite sofas roundup. Click the images for...
Read more